ASUU Strike: Senate Faults Presidency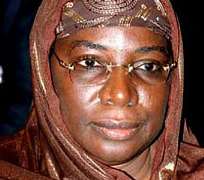 ABUJA, December 7, (THEWILL) - The Senate has faulted the Presidency over the ongoing industrial action by the Academic Staff Union of Universities (ASUU).
This was done when the upper house carpeted the Minister of Education, Professor Ruqayyatu Ahmad Rufai, over the inability of the Federal Government to implement the 2009 agreement reached with ASUU. The senators said her excuses were untenable.
The Minister, who appeared before the Senate Committee on Education, said nine of the seventeen-point demands of ASUU have been implemented while eight others are on the verge of implementation.
However, she disclosed that the major problem was the content of the retirement age bill, which merged universities with all other tertiary institutions. That aspect of the bill she added is what ASUU is kicking against.
According to her, the ministry has implemented nine of the contentious issues while eight are on stages of implementation adding that it is the processes that all the issues have to pass through that is delaying it.
But the Committee Chairman, Uche Chukwumerije frowned at the minister's excuse that the remaining eight are being delayed by the processes.
"You keep saying processes and processes. These processes are they made in the moon or Jupiter or where else. Are you not the people that created these processes? Or is it that you are waiting for another court action before you implement an agreement both parties willingly singed almost three years ago? Why can't these processes be sped up to save us another agony of strike?" he said.
The minister responded that it was not that government deliberately refused to attend to other demands but the circumstances surrounding them does not help matters especially the difference in the 65 years retirement age for Non-academic staff and 70 years for the academic staff.
The Committee Chairman said the bill on retirement age of lecturers is being treated expressly and has already reached second reading in the House of Representatives and on its way to second reading in the Senate.
Chukwumerije warned the federal government against foot-dragging on the implementation of the agreement reached with the Academic Staff Union of Universities, (ASUU) in 2009.
"I wonder why it is taking the federal government almost three years to implement the agreement reached with the academic staff and even settle all the contentious issues. This is December and in few weeks time we will be in 2012. It took a judgment by the Supreme Court before the matter on the illegal sack of the University of Ilorin teachers could be implemented do you also want us to wait for another four years on this?" he asked.