Boko Haram's Former Spokesperson Get 3 Years In Jail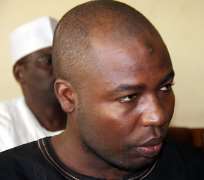 SAN FRANCISCO, December 6, (THEWILL) – Ali Sanda Umar Konduga, a former spokesman of the radical Islamic sect, Boko Haram has been sentenced to a 3-year term in prison after pleading guilty to felony charges on November 22, 2011 leading to his conviction.
The Abuja Chief Magistrate court presided over by Justice Oyebola Oyewunmi said he considered Konduga's plea for leniency in sentencing him.
Konduga also known as Al-Zawahiri was one of the spokespersons for the sect which has claimed responsibility for series of bombings and attacks on military and posts in the north.
He was arrested on November 03, 2011, by security operatives in Maiduguri, the Borno State capital.