THE WORLD'S FIRST SPIRIT-CENTERED HUMANS ARE AFRIKANS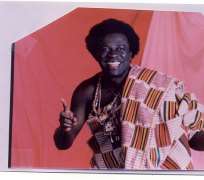 THE WORLD'S FIRST SPIRIT-CENTERED HUMAN BEINGS ARE AFRIKANS or WHY AFRIKASPIRITUALITY is the world First and Mother of all today's Concepts and Practices of Spiritualities, c) 2011 by Prof. Afrikadzata Deku, Docteur d'Etat; Doctorat d'Etat (PhD); DESS (M.Phil); M.Sc.; DIPLOME de l'IIAP, (Post-Grad.Dipl ;); BA Double HONS etc, Founder, AFRIKAMAWU MIRACLE MISSION, AMI INC; [email protected],
1. Every Holy Child of MAMAAFRIKA in the sacred Garden of AFRIKAMAWU is divinely led to know and believe that she is ten per cent physical or visible and ninety per cent Sacred, Invisible, Spiritual, Divine, Holy and Immortal.
2. Each knows, two Forces, the Positive or the Negative, the Visible or the Invisible, the Flesh or the Spirit, and so on, compete eternally to occupy the only Throne there is in each Being or Creation or Life.
3. Just as a ship can only have one captain, in the same way, only One of the two Opposing Forces, Energies or Spirits can captain a given Life or Being at a time.
4. To have the Positive in life is to exclude the negative in life and vice-versa.
5. To all the Children of MAMAAFRIKA is revealed the Secret Knowledge and Power to choose the Inner Captain or Driver they want at any given time to be the Driver or Captain of the Ship of their Life.
6. They all know the differences between the two captains or drivers to choose from.
7. They all know the consequences of what ever choice they make in life.
8. To be led by their Spirit is to be one with the Power, Energy and Spirit of their Creator AFRIKAMAWU within them.
9. To be One with the Creator AFRIKAMAWU is to be in Heaven on Earth.
10. And to be in Heaven on Earth is also to have and experience only that which is Divine, Perfect, Holy, Beautiful, Happy, Immortal, Positive, Serene, Loving, Just, Peaceful, Harmonious, Rich, Prosperous, Wealthy, Healthy and Progressive in Life.
11. On the other hand, Children of MAMAAFRIKA also know very well that the opposite is true if they allow their Flesh to control or drive them.
12. And since their Flesh is limited while their Spirit is unlimited, less powerful than the Spirit, ten per cent as against ninety per cent for the Spirit, all the Children of MAMAAFRIKA know, to be perpetually in tune with their Spirity or Divinity is to live in the Divine Light and the Truth of their Creator AFRIKAMAWU that will set them free from all forms of darkness.
13. They also know to live constantly in tune to the Eternal Spirit of Perfection and Holiness within them is to be free from sin, crime or evil of all kinds and sizes.
14. So, far from living in tune to their Flesh they prefer to stay constantly in tune to their Spirit who is Divine, Immortal, Omnipotent, Omnipresent and Omniscient.
15. Hence, the more Positively Attuned they are to the Spirit Source of their Being, the more they guarantee themselves the Eternal Divine Fruits of Divinity, Spirity, Perfection, Holiness, Immortality, Omnipotence, Omnipresence and Omniscience which their Flesh does not have and cannot offer them no matter what.
16. All because they also know everything the Flesh has to offer them can only be partial, limited, incomplete, fleeting and short-lived characterized by chronic restlessness, greed, selfishness, ego-gratification, lack of all kinds, excessive material acquisition, cheating, dishonesty, lies, corruption, exploitation, and so on.
17. Hence, all the Children of MAMAAFRIKA see no need or justification or room to prefer the Flesh over the Spirit. In this way, they become the world's first Spirit rather than Flesh-based People on Earth.
18. Besides, they also know to be in tune to their Spirit is to have the Inner Limitless Divine Power and Means to solve all their spiritual and material needs and wants in Life.
19. But to be in tune only to their Flesh is to only solve partially their Flesh needs without their Spirit needs and wants.
20. That is why, Children of MAMAAFRIKA for countless million seasons in the Invisible, Divine and Holy Garden of Continental Afrika are called the world's first "Spirit" "People" or "Beings" from which they get their name KA that means the Sacred Land or Heavenly Abode or Paradise of the Spirit or the Divine.
21. She is also known as the Divine Garden of AFRIKAMAWU where the Creator AFRIKAMAWU and all of her Creation eat, talk, joke, drink, fly, and walk together as Flesh and Blood of One Universal Power, Energy, Spirit and Source of all Life or Creation.
22. And as they advance and perfect their Oneness with their Creator AFRIKAMAWU within them and in all other Creation around them, they achieve Total Peace of Mind, Inner Enlightenment, Assurance, Love, Knowledge, and Understanding of themselves as Divine Representatives of the Creator AFRIKAMAWU on Earth.
23. Soon, they begin to use their Spirit Power to satisfy their daily needs and wants that beat their own imagination.
24. Instead of doing physical farming they begin to engage in what they call CONTINENTAL AFRIKAN SPIRITUAL FARMING that consists of using their Divine Mind Power to order or command into being, Food of all kinds to grow as Corn, Rice, Yam, Cattle, Fish, Vegetable and so on Farms.
25. With their Mental Power, they move from one place to another without the use of physical car, bus or bicycle; travel in the air physically and safely from one place to another without the use of physical airplanes; telephone mentally to each other without the use of physical telephone; cause rain to fall in time of drought and cause her to stop when she is raining too much; become invisible and visible any time they want; immunize themselves against gun bullet, sword, knife and cutlass cuts or blows of any kinds; speak and understand the Holy and Sacred Languages of the Supreme Creator AFRIKAMAWU, and the Sacred Spirits of Plants, Herbs, Animals, Birds, Earth, Sky, and so on; heal themselves mentally without the use of medicine; live without sickness in the world, and with the Power to ban all spirits of negativity, crime, hell, sin, evil, lack, needs, wants, poverty, tears, fears, worry, anxiety, suffering and death from their world.
26. In this way, they succeed in creating the Divine Kingdom of Love and Perfection as Heaven on Earth for the benefits of all Children of MAMAAFRIKA and the rest of Creation.
Source : Extract from the world's First AFRIKAHOLYBIBLE, Chapter 30, 1-26 which you can purchase online for the Whole AfrikaMiracle Story of How Ancient/Traditional Continental Afrikans Performed the World's First Unthinkable and Unheard of MIRACLES upon Miracles when they lived in Tune to the Limitless Power of their Mind, Spirit, Ancestral and Divine Power of AFRIKAMAWU within them . Email us for more details :
By COPYRIGHT (2011) Prof Afrikadzata Deku, Docteur d'Etat, PhD; *Doctorat d'Etat (Ph.D.) * D.E.S.S. (M. Phil) * Diplome De L' I.I.A.P.(Post-Grad. Dipl.) * M.Sc. * BA. Double Majors *
Emails: [email protected] ; [email protected]; [email protected]; [email protected]; ; [email protected], [email protected]
*SKYPE : AFRIKAPHARAOH or AFRIKAFIAGA or WindowsLiveID: AFRIKAPHARAOH* ;
*URLS: http://www.youtube.com/profafrikadzatadeku ; https://skydrive.live.com/redir.aspx?cid=4d3310fc746b4eaf&page=play&resid=4D3310FC746B4EAF%21107, http://www.myspace.com/profafrikadzatadeku; http://afrikacentricitybooks.blogspot.com/
Disclaimer:

"The views/contents expressed in this article are the sole responsibility of

Prof Afrikadzata Deku

and do not necessarily reflect those of The Nigerian Voice. The Nigerian Voice will not be responsible or liable for any inaccurate or incorrect statements contained in this article."
Articles by Prof Afrikadzata Deku