STATE OF NORTH: SARDAUNA, OTHER FOUNDING FATHERS'LL BE WEEPING IN THEIR GRAVES -MARK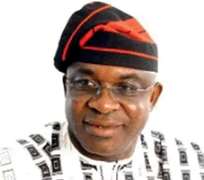 The two-day 'Peace and Unity' Conference, convened by Arewa Consultative Forum, (ACF), opened in Kaduna yesterday with the Senate President, Senator David Mark, declaring that the late Premier of Sokoto, Sir Ahmadu Bello and other founding fathers of 'one North, one destiny,' would certainly be weeping in their graves at the turn of events in the region they left behind.
Addressing an audience that include Vice President, Namadi Sambo, former Vice President Atiku Abubakar, former Head of State, General Yakubu Gowon (rtd), 11 of the 19 Northern governors and the Speaker of the House of Representatives, Mark, noted that though, the late Sir Ahmadu Bello, was a devout Muslim, he never discriminated between Christians and Muslims, and that he stood for values like education, development, progress, unity and peace.
He was however quick to note that the North which these founding fathers left behind, was now sadly bedevilled with challenges of poverty and underdevelopment, poor education, religious fundamentalism, terrorism and ethnic intolerance among several other anti-social acts.
This is even as the Chairman of the Northern Governors Forum, (NGF), and Niger State Governor, Muazu Babangida Aliyu noted that, 'any discussion on the socio-economic and political imperative for peace and security in the Northern states would be inconclusive if we do not have actionable proposals - with specific time lines and expected outcomes for youth employment, poverty reduction and social security for the citizens.'
Mark who ended up posing more questions than proffering solutions said, 'I have decided to ask more questions in the hope that the answers would provide the much-needed peace, which will pave way for development and the unity in the North.
'Let me start with what we have all probably taken for granted. Is state creation a blessing or a curse for Northern Nigeria? Do we still think of Northern Nigeria in the first instance as we did in the 1960s and before the war? Or do we think of our geo-political zones? There are northerners born after the civil war who have no idea of Northern region. They cannot relate to the North as an entity. What can we do, and what are we doing to inculcate in them the concept of Northern Nigeria? Is it the case that with the creation of states, alliances are more to states than to the North, as a region?
'Will this conference avoid what may be regarded as sensitive issues and not discuss them? Will we be able to condemn current degree of insecurity in the North occasioned and heightened by Boko Haram? Are we afraid to openly condemn Boko Haram either for political reasons or out of fear of possible attack by the sect? How can we keep quiet when a group begins to propagate the ideology that western education is haram; (when) western education today remains the pivot of development? Have we forgotten that evil thrives when good men are silent? A Northerner killing a Northerner; a Northerner maiming a Northerner; a Northerner disrupting business activities in the North; a Northerner destroying properties in the region and so on and so forth cannot be helping the Northern cause by any stretch of imagination.
'When is the North truly North? Is it when the interest of a few but vocal group is met? Is it when the interest of a selected religious group is met? Is it when a section of the North is satisfied? Or is it when the interest of the common good of the North is addressed?
'What are we doing about getting all the Almajiris into school? How far have we implemented the government's Almajiri education programme which was launched sometimes ago in one of the Northern states?' Mark asked.
Insisting that sound and quality education could accelerate development in the region, and possibly reduce incidences of ethno-religious conflicts, Mark again asked, 'Why has the North continued to lag behind in education? All available statistics show that in literacy and numeracy, the North lags behind the South, even within the North, there is so much disparity between the zones and between the states. Is it that the states are not investing much in education? Is it that we are not providing basic infrastructure? Is it that we are not encouraging and mobilizing the pupils to go to school? I am dwelling so much on education because I seriously believe that there is a linkage between education, and development on one hand, and between peace and development on the other.
'As people, who desire to live together, we are bound to have problems but we can overcome these if we are sincere. Sincerity of purpose, consistency, transparency and honesty are all necessary ingredients to ensure peace and peaceful co-existence in the North; sincerity on the part of our religious leaders, sincerity on the part of our opinion moulders, sincerity on the part of our traditional rulers and above all, sincerity on the part of our politicians. We must demonstrate this in words and in deeds, and we must show that we are serious about this.
'As leaders, we sometimes have to take decisions that are painful but necessary; we must be courageous even when we are threatened. Can we truly say we have done this? Let me also say that these questions are not meant to discourage us, but instead should spur us and encourage us. I do not have the answers to them but I believe we can get the answers from this conference. We must make this more than a mere talk show,' Mark noted.
The Niger State Governor on his part said, 'unless we are all committed to 'walk the talk,' by signing up to implementable decisions on all the issues on the agenda of this conference, we will continue to have well organized events of this nature and beautiful recommendations that may not have meaningful bearings with the realities on the ground and in improving the quality of life of the average Northern citizen of this country. We must be able to feed our population, provide good, free and compulsory education at the nursery, primary and secondary school levels, while providing guarantee that all qualified children can enjoy the benefits of tertiary education. We should endeavour to establish peaceful and conducive environment, be more tolerant and accommodative.
'We should recall the previous efforts of the Northern Governors' Forum with series of summits on education, health, agriculture and economy. The outcomes have been characterized by follow-up sessions by various implementing MDAs in our respective states with specific indicators.  Perhaps, it is time those of us in leadership position in government (at all levels) and indeed in the private sector live by example, to earn the respect and trust of the less privileged amongst us, especially the younger generations.
At the basic level, if we pronounce a policy for improving the education or health sectors, for instance, we should be seen to be using our public schools and health facilities for the educational and health needs of our families, so that we can feel it where the shoes pinches and take informed decisions in addressing the challenges. I must say that we need to be courageous in changing our social values and belief systems to reflect humility, transparency and accountability to achieve greater levels of service delivery in this country.
'Similarly, in addressing what may be masquerading as ethnic and religious conflicts and security threats in some parts of the Northern states, we must first tackle the economic problems and social inequities in our society. Unless we take deliberate steps to implement policies and programmes that have direct bearing on the lives of the majority of the people and ensure equitable allocation of resources, we will continue to search for answers to our security challenges for a long time to come. This scenario is best illustrated by the peace and stability that the North witnessed in the past under an honest leadership with integrity. Therefore, nobody in his/her sane mind will jeopardize such integrity for whatever pecuniary gains, no matter the circumstance,' the Niger governor said.
Prominent Northerners, who attended the conference, include Governors of Kebbi, Borno, Yobe, Jigawa, Niger, Sokoto, Kaduna, Gombe, Zamfara, Benue and Nasarawa states. Former governor Danjuma Goje of Gombe and Ahmed Adamu Muazu of Bauchi States were also in attendance.
The Sultan of Sokoto, the Shehu of Borno and the Emirs of Gwandu and Zazzau, were also in attendance. The conference continues today.