South African President Zuma To Honour Shehu Yar'Adua Memorial Lecture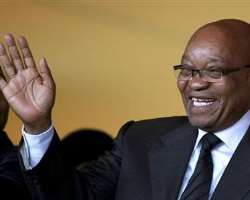 SOUTH AFRICAN PRESIDENT, MR. JACOB ZUMA
SAN FRANCISCO, December 5, (THEWILL) - The President of South Africa, Mr. Jacob Zuma, will serve as the Special Guest of Honour at the Shehu Musa Yar'Adua Memorial Lecture scheduled to take place at the Yar'Adua Centre on December 10, 2011. The lecture is in honour of Nigeria's illustrious military officer, government official and political leader.
According to a press statement by the Director General of the Shehu Musa Yar'Adua Foundation, Jacqueline Farris, the event will include the President, H.E. Dr. Goodluck Jonathan and the former National Security Adviser, Lt. General Aliyu Gusau Mohammed (rtd.) as Guest Speaker.
The late Shehu Yar'Adua, Chief of Staff Supreme Headquarters during the Murtala/Obasanjo administration, died on December 7, 1997 while in detention for opposing the continuation of military rule in Nigeria.
Since his death, the Yar'Adua Centre periodically organizes events to honour his memory.
Established in 1998, the Shehu Musa Yar'Adua Foundation endeavours through its programmes and projects to further the ideals of one of the nation's most worthy leaders.
In addition to commemorative activities, the Yar'Adua Centre features social responsibility programmes and public policy projects, supporting 25 academically accomplished students from less privileged families and two community libraries.
The recently commissioned Katsina Eye Centre, a partnership between Katsina State Government and the Tulsi Chanrai Foundation, was facilitated by the Yar'Adua Foundation.
Public policy projects include publication of "Nigeria at Fifty: Contributions to Peace, Democracy and Development" as well as initiatives to incorporate new media in the election process and good governance agenda.