STAR ACTRESS BINTA AYO MOGAJI STRUCK BY STRANGE ILLNESS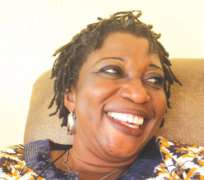 Binta Ayo Mogaji is one of the few actresses who need no introduction in Nigeria's movie industry.The actress is fondly referred to as Igbanladogi,a name she got from her role in Late Toba Opaleye's chart busting film titled 'IGBALADOGI' years back.
It was a traumatic period for Ayo Mogaji's family,friends and fans both home and abroad when the news broke sometime in September that the super actress was seriously ill.
It will be recalled that she relocated to London a couple of years back when she got married to her new husband who is based in the U.K, after her marriage to popular actor,Prince Jibola Dabor packed up.
The gist here is that Ayo Mogaji came to Nigeria to act in a T.V series 'No Where To Be Found', and also went on film location in Ghana.She was said to have slept at her Bodija home and didn't wake up the next day and if not for a neighbor who went to check on her,the story would have been disastrous.
She was thereafter rushed to the hospital and she was in coma for 3 days at Bethel Hospital Opp.411 Club,Bodija where she was admitted.
The nature of her sickness was unconfirmed.It is believed in some quarters that she attempted to commit suicide,some however say she has no cause to do such.Those in the latter school of thought believe she has a career and she is married and as such has no reason to think such.
Her friends also said she has never been known to have suicide tendencies.Another unconfirmed source has it that her sickness is cause by an organ failure and that she has since been warned by doctors to do away with alcohol.
The good news being peddled by her friends is that she has since recovered from the strange illness and has moved back to her London base,but what remains unclear according to the information available to us is the manner in which her landlord at her place beside I.I.G Guest House,Bodija ejected her while abroad,over unpaid rent.It means that Ayo Mogaji presently has no place of her own and will have to look for another place when next she is coming to Nigeria.