AFRIFF International Film Festival Brings Hollywood-Style Glitz and Glamour To Lagos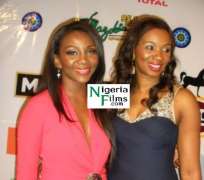 Nollywood star Genevieve Nnaji and Chioma Ude, the Founder/Project Director of AFRIFF International Film Festival on the red carpet at the closing ceremony on Saturday night of December 3, 2011, at the Lagos Oriental Hotel.
For the first time Lagosians saw the glitz and glamour of Hollywood-style stardom at the second AFRIFF International Film Festival from Wednesday November 30 to Saturday December 3, 2011. The colourful four-day event attracted both local and international celebrities.
The opening ceremony and closing gala and awards night at the prestigious Lagos Oriental Hotel on Victoria Island had all the glitz and razzmatazz of stardom. The red carpet glittered with Nollywood stars Rita Dominic, Genevieve Nnaji, Stephanie Okereke and Kate Henshaw who looked younger and hotter at 40 and can hook any man any day. The Chairman of the Silverbird Group, Mr. Ben Murray-Bruce looked fine in his black suit with the beautiful Lynn Whitfield, the Emmy Award winning American actress by his side, and one of his senior executives Mr. Alozie Uzoukwu, the Head of Entertainment at Silverbird Group stood nearby. All the members of the jury, including accomplished Nigerian filmmaker, photographer and writer Femi Odugbemi, founder of iREP International Documentary Film Festival, Eriq Ebouaney, Heidi Lobato and others were present. Other important dignitaries included Mr. Hope Opara, President of Eko International Film Festival, Mahmood Ali-Balogun, director of Tango With Me, Celine Loader and Mr. Ekenyerengozi Michael Chima, Publisher/Editor of Nigerians Report, who is also the founder of the annual Eko International Film Festival and the new Screen Naija Open Air Cinema Festival.
The workshops and screenings were held at the Genesis Deluxe Cinemas and Lagos Oriental Hotel. The inaugural edition in 2010 was in Port Harcourt, Rivers State.
The Founder/Project Director, Chioma Ude and Creative Director, Peace Anyiam-Osigwe appreciated all the filmmakers who submitted over 80 films in different categories of the film festival and also commended members of the organizing committee, partners and sponsors.