Afghanistan's Allies Pledge To Stay For Long-Haul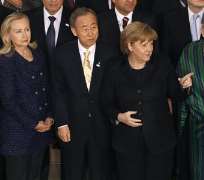 The West used an Afghanistan meeting on Monday to signal enduring support for Kabul as allied troops go home, but economic downturn in Europe and crises with Pakistan and Iran could stir doubts about Western resolve.
The goal is to leave behind an Afghan government strong enough to escape the fate of its Soviet-era predecessor, which collapsed in 1992 in a civil war. The country's allies are preparing increasingly for a scenario in which there is no peace settlement with the Taliban before most foreign combat troops leave in 2014.
"The United States intends to stay the course with our friends in Afghanistan," U.S. Secretary of State Hillary Clinton told the conference. "We will be there with you as you make the hard decisions that are necessary for your future."
Hosts Germany sought to signal Western staying power as the gathering of dozens of foreign ministers opened in the German city of Bonn.
"We send a clear message to the people of Afghanistan: We will not leave you on your own. We will not leave you in the lurch," said German Foreign Minister Guido Westerwelle.
Ten years after a similar conference held to rebuild Afghanistan following the September 11 attacks, Western countries are under pressure to spend money reviving flagging economies at home rather than propping up a government in Kabul widely criticised for being corrupt and ineffective.
Brewing confrontations pitting Washington against Pakistan and Iran, two of Afghanistan's most influential neighbours, have added to despondency over the outlook for the war.
Pakistan boycotted the meeting after NATO aircraft killed 24 of its soldiers on the border with Afghanistan in a November 26 attack the alliance called a "tragic" accident.
Some in the West are still hoping Pakistan will use its influence to deliver the Afghan Taliban, whose leadership Washington says is based in Pakistan, to peace talks.
But foreign governments, while regretting Pakistan's absence, made clear they would press ahead in building up the Kabul government's ability to survive after 2014 even if Islamabad fails to bring insurgents into a political settlement.
"It may take a longer time to bring about our objectives but we should not be deterred at all by Taliban reluctance to come to the table," British Foreign Secretary William Hague told the BBC.
FEARS OF CIVIL WAR
Embryonic contacts with the Taliban have so far yielded little, and with the government in Kabul unable to provide security and economic development, the risk is that the withdrawal of foreign troops will plunge Afghanistan back into civil war. Renewed strife might also stir more violence over the border in Pakistan, fighting its own Islamist insurgency.
Iran's growing confrontation with the West over its nuclear programme could also bleed into the war in Afghanistan.
Tehran said on Sunday it shot down a U.S. spy drone in its airspace and threatened to respond. International forces in Kabul said the drone may have been one lost last week while flying over western Afghanistan.
Iran has been accused in the past of providing low-level backing to the Taliban insurgency, and diplomats and analysts have suggested Tehran could ratchet up this support if it wanted to put serious pressure on U.S. forces in Afghanistan.
Foreign Minister Ali Akbar Salehi on Monday reiterated Iran's opposition to the United States keeping some forces in Afghanistan after 2014.
"Certain Western countries seek to extend their military presence in Afghanistan beyond 2014 by maintaining their military bases there. We deem such an approach to be contradictory to efforts to sustain stability and security in Afghanistan," he told the conference.
"LAND OF OPPORTUNITY"
Foreign governments however were determined to try to dispel at least some of the pessimism seeping into the Afghan project.
Indian Foreign Minister S.M. Krishna, whose country became the first to sign a strategic partnership agreement with Afghanistan - much to the irritation of Pakistan - pledged India would keep up its heavy investment in a country whose mineral wealth and trade routes made it "a land of opportunity."
In a rare positive development, Clinton said the United States would resume paying into a World Bank-administered trust fund for Afghanistan, a decision that U.S. officials said would allow for the disbursement of roughly $650 million to $700 million in suspended U.S. aid.
The United States and other big donors stopped paying into the Afghan Reconstruction Trust Fund in June, when the International Monetary Fund suspended its programme with Afghanistan because of concerns about Afghanistan's troubled Kabul Bank.
The conference is not expected to produce new aid pledges; instead, U.S. officials say they hope it will mark a start to a process outlining future support to be pledged by mid-2012.
The Taliban condemned the conference in a November 30 statement which reiterated a call for foreign occupation of the country.
German Chancellor Angela Merkel told the conference that reconciliation -- a term used to refer to talks among different Afghan groups as well as with insurgents -- remained an important part of efforts to stabilise Afghanistan.
"The political process will have great importance in future, this is the place where the questions of reconciliation and power sharing must be solved in a way that includes all parts and ethnic groups of the society," she said.
"We can help Afghanistan in this process, we can provide our experience, but we can't solve the problem, it is only the Afghans who can do this."
Britain's Hague reiterated that any settlement with insurgents would require them to renounce violence, sever ties with al Qaeda and respect the Afghan constitution -- "end conditions" which some argue effectively close the door to talks by determining the outcome in advance.
Afghanistan has blamed Pakistan for hindering peace talks. Pakistan says it is being used as a scapegoat for the failure of the United States and its allies to bring Afghan stability.
REUTERS