'Merkozy' Under Pressure To Agree To Budget Masterplan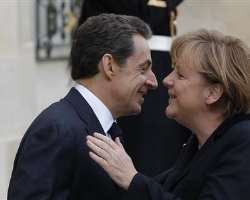 FRANCE'S PRESIDENT NICOLAS SARKOZY GREETS GERMAN CHANCELLOR ANGELA MERKEL BEFORE A WORKING LUNCH AT THE ELYSEE PALACE IN PARIS DECEMBER 5, 2011.
The leaders of Germany and France met on Monday under intense pressure to agree a plan for imposing budget discipline across the euro zone, as markets rallied in the hope they can produce a sweeping solution to the debt crisis at last.
Markets want French President Nicolas Sarkozy and German Chancellor Angela Merkel to forge a comprehensive proposal in Paris for restoring faith in euro zone nations' ability to repay their debts, before a European Union summit later this week.
But despite their single nickname of "Merkozy," the Franco-German duo has yet to produce a single master plan for halting a slide which is threatening the currency union's survival.
"There are still significant differences between Sarkozy and Merkel, so we're in for a volatile week, and the risk is that any kind of disappointment could trigger a pull-back," said Patrice Perois, a trader at Kepler Capital Markets.
Merkel and Sarkozy both want a system of more coercive discipline for euro zone governments which fail to keep their budgets under control. Such a system, which they want all 27 EU leaders to approve at Friday's summit, would likely need a change to the EU treaty.
The sticking point is that France opposes Germany's push to have euro zone states surrender control of their budgets to a European authority with veto power, with the European Court of Justice possibly punishing governments that step out of line.
While Germany, fed up with costly bailouts, wants a more federal EU system, Sarkozy is under fire five months before a presidential election from political rivals who accuse him of being ready to hand over sovereignty to unelected EU officials.
An aide to Francois Hollande, the socialist candidate for next year's election, said that acquiescing to Berlin's demands would show the Franco-German relationship had become unbalanced.
"We do not need a treaty to have budgetary union," said aide Pierre Moscovici. "Most of all, it erodes our sovereignty. We do not need to be under the nitpicking control of the European Court of Justice," he told French LCI television.
SAVE ITALY
Merkel and Sarkozy were meeting over lunch and were to give a joint news conference afterwards
The governments of Italy, Ireland and Greece will all put national austerity budget plans to their parliaments this week.
In Rome, Prime Minister Mario Monti takes a 30 billion euro "Save Italy" austerity package to parliament on Monday, buoyed by a positive market reaction.
"Without this package, we think that Italy would have collapsed, that Italy would go into a situation similar to that of Greece," Monti told the news conference.
Italy's technocrat cabinet approved the mix of tax rises, pension reforms and incentives to boost growth in a three-hour meeting on Sunday, opening one of the most crucial weeks since the launch of the euro more than a decade ago.
Markets reacted enthusiastically, with the yield on Italian two-year bonds plunging 85 basis points to 5.78 percent. This was far below the yields of over 7 percent last month -- levels at which Greece, Ireland and Portugal had to take international bailouts.
European stocks staged their strongest weekly gain in three years last week and the FTSEurofirst 300 index of top European shares was up nearly 1 percent by late morning.
The euro also rose on hopes that the EU summit on December 9 will come up with a credible plan, as well as the new austerity measures announced by Italy.
But currency traders remained cautious. "There will be moments of disappointment and moments of optimism. In the end the euro is dependent on what European leaders do," said Katsunori Kitakura, chief dealer at Chuo Mitsui Trust Bank.
EYE TO EYE
Berlin and Paris are under unprecedented pressure to see eye to eye in a crisis that has split them on issues such as the role of the European Central Bank in lending to troubled states and on whether the bloc should issue joint euro bonds.
Sources close to Merkel have also said that depending how this week's talks go, she could overrule hostility from the Bundesbank and support the ECB stepping up its debt purchases from troubled euro states as a short-term bridging measure.
Top ECB policymakers have been reluctant to buy up debt from distressed euro zone states, as this would take the pressure off governments to get their financial houses in order.
But ECB chief Mario Draghi has signaled that a "fiscal compact" produced by the euro zone governments could nudge the bank to act more decisively on the crisis.
Germany is also prepared to soften language in the euro zone's permanent bailout mechanism compelling bondholders to accept losses, in exchange for the much stricter budget rules. sources have told Reuters.
The hope is that private bondholders will be assured that they are not being singled out by European policymakers for losses, bolstering their confidence in buying euro zone bonds.
On Monday, an ECB policymaker described a plan for holders of Greek government debt to take heavy losses had led to a big rise in borrowing costs for other euro zone countries.
"It was a terrible mistake," said ECB Governing Council member Athanasios Orphanides, who is also the Cyprus central bank chief.
Cyprus banks are big holders of Greek government debt, the value of which is due to be halved under a new 130 billion euro bailout deal for Athens.
In Dublin, Ireland's government will unveil what it hopes will be the toughest budget of its five-year term, but as it tries to keep the public onside economists are warning that a global downturn means the worst may be yet to come.
On Tuesday, the Greek parliament is due to give final approval to a draconian 2012 austerity budget that is a condition for a second bailout package still under negotiation with private creditors, euro zone governments and the IMF.
While national governments pursue this piecemeal approach, analysts cautioned that opposition in other euro states to a more intrusive and stringent overall regime could yet derail the rescue plan that has eluded euro zone leaders for two years.
Several other governments, notably Britain, Ireland and the Netherlands, oppose treaty change for domestic political reasons and fear they would not win public backing in referendums.
Several EU member states are urging Germany to drop its demands for changes to the EU treaty, arguing that deeper fiscal integration in the euro zone can be achieved without overhauling the EU's fundamental law, EU sources say.
British Prime Minister David Cameron said after talks with Sarkozy in Paris on Friday that he would agree to treaty change only if Britain's interests were protected.
On Wednesday, Sarkozy will meet in Paris U.S. Treasury Secretary Timothy Geithner, whose fourth trip to Europe since early September reflects U.S. concern about the euro zone.
Geithner visits Germany on Tuesday to meet Draghi and German officials. Later in the week he joins EU leaders at a political congress in the French city of Marseille due to be dominated by euro crisis talks and then heads to Milan to meet Monti.
REUTERS