NIGERIA, ANTI-GAY LAW AND FOREIGN AID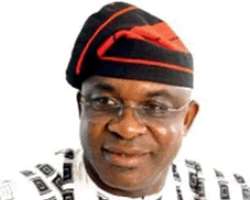 • Mark
Last week, the Senate went all out to consign gay relationship to the pit of infamy when it passed the Same Sex Marriage (Prohibition) Bill. But the Upper legislative chamber did not stop at prohibiting the practice, it prescribed harsh punishments for those who engage in it.
According to the report of the Senate Committee on Judiciary, Human Rights and Legal Matters which the upper chamber adopted, persons who enter into same sex marriage contract or civil union commit an offence and are liable on conviction to a term of 14 years imprisonment. The bill also imposes a jail term of 10 years on any person who registers, operates or participates in gay clubs, societies and organisations or makes public show of amorous same sex relationships.
Ordinarily, you would think that laws made in Nigeria by its lawmakers are for the good governance and welfare of the people. They are supposed to be for the consumption of Nigerian citizens.
But that is hardly the case under the present circumstance. The government of Britian has taken more than a cursory interest in Nigeria's anti-gay law. Before the Senate took the bold step last Tuesday, the British Prime Minister, David Cameron, had warned that countries that refused to recognize the rights of the sexuality of some people would be sanctioned.
He said his country would consider withholding aid from countries that do not recognize gay rights.
Upon the passage of the bill last week, the British High Commissioner to Nigeria, Andrew Lloyd, rose against the action of the Senate and declared that Britain and other western countries would not tolerate any law that prescribes punishment for gays. He said punishment amounts to an infringement of their fundamental human rights, an action he said the western countries would not condone.
The interest of the British government in this matter is really strange. Its pronouncement that it would withhold aid from countries that do not recognize gay rights is much more so. One is constrained to ask whether the law is for Nigerians or for British citizens or nationals of western countries. Why is Britain so concerned about this matter? What does the country stand to gain by seeking to impose its ways on Nigeria? Is this neo-colonial tendency a betrayal of Britain's subtle or surreptitious hold on Nigeria's affairs?
The position of London is not only an arm-twisting tactic, it is of a clear act of blackmail whose objective is to whip non-conforming countries into line. No doubt, developing countries such as Nigeria are in dire need of foreign aid. We depend on such aids and grants for the implementation of a number of development programmes. It will therefore be scary to mention that Nigeria or any other third world country for that matter would lose foreign aid on account of an issue that has to do with the pleasures of the flesh.
If the scenario being painted is subjected to debate or analysis, many are bound to beat a quick retreat out of their anti-gay posturing when it is weighed against foreign aid. In fact, many will be tempted to say that Nigeria should look the other way while gay affairs take a pride of place.
However, it is matters that have to do with stick and carrot that expose the true faith or worth of men, institutions or governments. Those who do not have the courage of their convictions are likely to jump ship the moment certain carrots are dangled at them. They are likely to abandon their original position and flow with the tide of inducement.
In this matter, it is significant to note that the Senate has stood on the side of what we as a people cherish and value. The President of the Senate, David Mark, was unequivocal about it. He said during the debate on the bill that our values are sacrosanct and that any country that wants to withhold its aid and assistance on account of our principled stand on issues of culture and values was free to do so.
That is the point. As a country or a people, we must defend our mode of seeing and knowing. This is essentially embedded in our culture, and it is our culture that defines our essences. To sacrifice this on the altar of foreign aid is to diminish ourselves and abandon who we are. Human rights as being alluded to by Britain makes sense. But the right in question is not inalienable. It is not one of those rights that mankind cannot do without. They are invented or contrived rights which cannot take precedence over a people's essence or time-honoured values.
If issues of human rights must make sense, they must be viewed from the lenses of time and space. Our epoch in Nigeria does not, as yet, permit such luxuries. It looks and sounds abhorrent in our environment. These contradictions necessarily vitiate whatever right anybody many lay claim to. The Senate of the Federal Republic is therefore right in the position it has taken. Nigeria should refuse to be swayed by self-serving arguments such as the ones emanating from Britain.