… AS DICKSON MOVES TO RECONCILE AGGRIEVED MEMBERS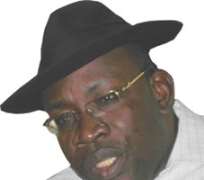 • Dickson
The governorship candidate of the Peoples Democratic Party (PDP) in Bayelsa State, Mr Seriake Dickson, has pressed on with efforts to reconcile aggrieved party members who are protesting the process that led to his emergence as the party's candidate for the 2012 February governorship elections.
Dickson had emerged standard bearer in the November 19 governorship primary election which three aspirants had alleged was manipulated in his favour. One of the aspirants, Mr. Christopher Enai is already in court seeking for the nullification of the primary election.
In his bid to assuage frayed nerves, he met with t22 youth groups and elders of the party in Yenagoa, urging them to intensified talks to reconcile the people and prepare for the development of the state after he would have been elected governor.
In attendance at the meeting were representatives of the Ijaw Youth Council (IYC), students' body, professionals and 59 political elders of the state led by former governor Diepreye Alamieyeseigha. The meeting deliberated on the political situation and resolved to prevail on politicians to play by the rules of the game and ensure a peaceful election. Dickson said in the new Bayelsa that his government would build when elected as governor there would be no room for criminality and violence.
According to him, he would not be part of any process that would play politics with the issue of crime and criminality in the state.'Our government will not play politics with crime and criminality. The business of government is about service, it is about your future. Our emphasis will be on capacity building and education of our people. Your resources will not be spent funding violence; your resources will be well spent preparing building blocks for a better tomorrow. There will be a massive employment of teachers and a massive programme of skill acquisition.'
In a communiqué issued and jointly signed by Mr. Diranyei John Deseotukpoemi, Mr. Nelson Abali and George Turner after the meeting, they tasked governorship candidates and politicians to run their campaigns based on the programmes and policies they had for the people of the state.
The communiqué reads in part: 'All politicians should bury their differences and work together for the peace, unity and development of Bayelsa State and the Niger Delta. We urge all politicians to run campaigns based on ideas and policies and propose policies and programmes that will benefit students, youths and the entire education sector.'