The Bridge Foundation Commences Football For Leadership Programme In Calabar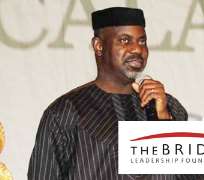 CALABAR, December 4, (THEWILL) - The Bridge Leadership Foundation, a youth empowerment scheme initiated by Governor Liyel Imoke of Cross River State as his pet project has concluded modalities to commence a three week football for leadership programme under its community concepts for youth leadership.

The Acting Director of the foundation, Mrs. Ini Onuk, who disclosed this during a media briefing at Monti Suites Hotel, Calabar, explained that the programme is intended to enhance the capacity of young people through football, inculcate other values in them as well as develop their youth capacity, explaining that the tournament which is designed to be executed in three weeks, is divided into five pay days each week at Saint Patrick's College, Calabar.
According to Mrs. Onuk, about 2000 youths have registered for the programme and they will be divided into 16 teams to play a proper knock out tournament and participants will be engaged through practical football, class assignments, training and workshop on gender violence, leadership, community development modules.
She disclosed that the programme is expected to prepare participants for the 2012 Homeless World Cup in Mexico, enhance capacity for youths to appreciate the game of football beyond scoring goals, groom its team to participate in national, FIFA accredited projects in Nigeria as well as raise youth leaders in the state.
The Assistant Director listed the foundation's partners in the programme to include Search and Groom which has a background knowledge of exploiting sports as a means of social and health campaign, harmony and community regeneration, adding that it has initiated street soccer programmes in Lagos State since 2005 as well as delivered quality educational integrity and self esteem programmes leading to 120 young vulnerable Nigerians travelling to Cape Town, Copenhagen, Melbourne, Milan and Paris.
"Nigeria has won a UEFA Fair Play award and fourth place finish at the 2009 Homeless World Cup in Milan and runners up at the FIFA "Football for Hope "Festival 2010," she said.
The Executive Director, Search and Groom, Mr. Yomi Kuku, said they would in partnership with the Bridge Leadership Foundation, make sure that they do not only implement the programme and its components professionally, but all affixed opportunities will be accessed by the participants from Cross River State.
According Mr. Kuku, one of them is the selection of three participants from the project to represent Nigeria at the 2012 Homeless World Cup to be held in Mexico City, Mexico.
She explained that the Homeless World cup is an annual world street soccer championship that highlights the positive power of sports by creating a unique setting for vulnerable and homeless people, adding that "it is recognized and supported by the united Nations as one of the outlets for the achievement of the Millennium Development Goals (MDGS), in close cooperation with UEFA."