AREGBESOLA/FRCN CONTROVERSY: LAWMAKERS WANT FG SUED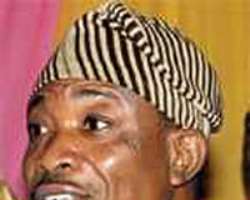 Osun State House of Assembly has passed a resolution asking the state government to take legal action against the Federal Radio Corporation of Nigeria (FRCN) over the recent cancellation of Governor Areggesola's interview programme, which they described as breach of agreement.
|
They noted that the station being funded by tax-payers fund should not have entered into agreement it knew it would not honour.
In a motion moved by Hon. Wasiu Adebayo (Olorunda), which was seconded by Hon. Ipoola Binuyo (Ife North), the House unanimously condemned the manner by which the interview, which had already been paid for, was stopped a few hours to commencement of the programme.
The Speaker, Hon. Najeem Salaam, commenting on the matter, alleged that the stoppage of the interview had the presidency's hand in it, saying that was a bully attitude on the part of the Federal Government.
In a similar reaction, a member of the House of Representatives, representing Ilesa/Atakumosa, Hon. Ajibola Famurewa, also condemned the Federal Government for allegedly stopping the governor from featuring on FRCN live programme. Aregbesola was billed to feature on a two-hour current affairs programme, 'Radio Link' in Osogbo last week as part of activities marking his one year in office. But the programme was ordered stopped, while the Minister for Information and Communication, Mr. Labaran Maku, appeared instead.
Lending his voice to the decision of the state's House of Assembly, Famurewa condemned the stoppage, calling on the state government to seek redress over the matter. He stated this while donating 200 crash helmets to okada riders in Ilesa where he urged them to always obey road safety rules and desist from riding bikes under the influence of alcohol. Famurewa charged the Federal Road Safety Commission (FRSC) to take urgent steps to enforce the use of helmet on the road by both private and public riders to ensure safety.