MY SON IS INSANE -KONDUGA'S DAD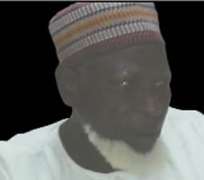 • KONDUGA'S DAD
A new twist has occurred in the conviction of Ali Sada Umar, convicted former spokesman of the dreaded Boko Haram sect, as his father, Alhaji Sanda Konduga, sensationally declared on Saturday that his son has 'mental challenges.'
The senior Konduga said this at a press conference in Abuja on Saturday afternoon.
Speaking amidst chieftains of the Peoples Democratic Party (PDP) from Borno State, Konduga first offered background information about himself before he read a prepared statement.
Konduga said he was leader of the defunct Great Nigeria Peoples Party (GNPP) in the House of Representatives in the Second Republic, having left the civil service in 1966. He joined the NPP and became a foundation member of the GNPP.
He said his son might probably have inherited his 'mental challenge' from his late mother whom he quickly divorced when she was pregnant with him.
His words: 'My late wife, his mother, had a mental weakness and this divided us. It was believed that if someone has a mental challenge, it would affect the offspring. It's from there I believed he would have this illness (sic).
'Ever since he was born, I have never spent a night with him in my house. When I divorced his mum, she was pregnant with him. She gave birth to him three months after I divorced her.
'At 18 months, she gave him to my elder sister, who is also deceased. He often visited my house and would go to see my wife, that is, his step-mother and often times, he would sit alone with his radio for company, even when his step-brothers are in the house.'
On his son's involvement with Boko Haram, Konduga said: 'I've never known him with such involvement. I never knew he was even a member of Boko Haram and if you remember, Boko Haram has already said he was not their member.'
The old man said he only got to know of his son's arrest on television like other Nigerians. 'Before I became aware of his arrest, I saw him on television. I heard he was arrested and taken to Abuja. The only time I knew of his arrest was on television.'
Alhaji Konduga then proceeded to read his prepared statement, which had earlier been distributed to newsmen present at NOVACAD Hotel Limited in Wuse Zone 3, Abuja.
The one-page statement dated December 1 and personally signed by him reads: 'I and my family received with deep shock, the news of the arrest of my son, Ali Sanda Konduga, his arraignment and subsequent conviction on November 22 by an Abuja Magistrate's Court.
'Ordinarily, we thought he would face a trial with counsel representation, for us to explain the unfortunate circumstances surrounding his mental health. Ali Sanda Konduga since his childhood had faced mental challenges. It is unfortunate that we now find ourselves in this situation. We shall therefore, appeal against this judgment.
'We want to seize this opportunity to apologise to Sen. Ali Ndume, late Amb. Saidu Pindar's family, and the entire elders of Borno State for the pain and embarrassment caused on account of the purported claims of my son.
'We plead for understanding as we strive to ensure the review of those unfortunate and improper conviction without counsel representation.'
When contacted on the claims of the senior Konduga, Ms. Marilyn Ogar, spokesperson for the State Security Services (SSS) said: 'Nigerians are not stupid. He was ANPP chairman at a time and he couldn't even send his son to school while he can speak English.
'How come he suddenly realized that his son is insane after the boy had claimed membership of Boko Haram?'
Ali Konduga had implicated Senator Ali Ndume as one of the sponsors of Boko Haram. Ndume was remanded in SSS custody and his bail application comes up for hearing on Monday, December 5.