WE'VE NEVER QUARRELLED OVER MONEY AND WOMEN. NOT EVEN ONCE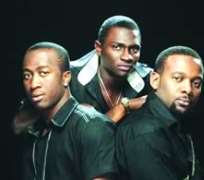 Style Plus
Soul singing trio, Styl-Plus, who have been away from mainstream music for almost two years, are getting ready to rock their teeming fans once again this Yuletide season, with a new single entitled, Alive.
In this interview, the Abuja-based musicians speak on several issues, especially those bordering on their career. They also open up on their whereabout since 2009 when their last work was released. Enjoy.
Still singing
We still sing. Music is still our primary business. We have been recording since the beginning of this year. We have been locking up ourselves for the past four months to complete our new album. We are taking time to fill it with new inspiration. We are not rushing into pushing out an album. We want to take our time to give the best to the public.
Leaving Lagos for Abuja
We've not left Lagos for Abuja. Shifi has been in Abuja since 1997. He grew up in Abuja. Zeal came to Abuja in 1998, I, Tunde, live in Abuja, so we've not left Lagos for Abuja. Once in a while, we go to Lagos and other places, but Abuja is where we really stay. Also, in music, you can't say you are staying in a particular place because the work of an artiste takes him everywhere, and as long as you have the communication and the cash to move around, I think you are worldwide
What keeps us going
It is God. But the fact is that music is not just money making venture all the way. So, the fact that we love what we do has kept us going. Music is like life to us. And it is always music before every other thing. So, the passion for the job is there. Another thing that has kept us going is high level of tolerance. Besides, we don't think anybody here is interested in doing anything on his own. So, we enjoy it together and it is a selling group.
On inspiration
Inspiration comes in different ways for us, in the bathroom, toilet, and sometimes in the studios. Inspiration comes sometimes at night or early in the morning while bathing. It also comes from friends and enemies too. Sometimes when driving alone inspiration will just keep flowing.
We disagree to agree
We quarrel three times a year. Though, depending on what you call quarrel. You know, people cannot be together without having issues. I don't think we always have issues. But sometimes we do have disagreements because if we don't disagree, that means we are definitely deceiving ourselves. And I think we are too mature for anybody to even notice that we have issues. Take it this way, we have issues same way people have issues at home. Most of the times we have issues it could be when we are recording. Different persons may see a particular song in different ways. Sometimes, the opinions may be expressed in an uncomfortable way. Or there could be regular day-to-day issues like when one person calls, the other doesn't pick and doesn't call back. As I said earlier, these are really non-issues. At the end of the day, we debate over our songs and come up with something great for our fans. No, we are too old to have issues over women.
Our expectations from SKP
We just want KSP to function properly like a label. The label has actually done its best with the available resources. It has been kicking the ball rolling, but sometimes we like things happening faster than they do. It could be anything. It could be that we are waiting for a particular contract to sign and the contract doesn't come on time. But we are happy here because we know that the label has our best interests at heart. We think SKP is doing very well and we also think they are the best, but the future will tell better.
Alive for the season
Hopefully, before Xmas our single would have come out. It's called Alive. Our fans will have something new to listen to and the theme of the song really blends with the season. I think they will enjoy that.
We can't really say when the full album will be ready, because at present we are just recording songs. And you know an album is a collection of all the songs recorded over a period of time.
Songs recorded so far
If a man knows how much he has in his account, he really does not have money. So, we really don't know how many songs we have recorded. On the average, I think we have recorded about nine. We have recorded with producers like Jesse Jagz and OJB, and some of the productions were done by us.
Aside music
Our last work was released December 2009. It was a deliberate decision to lie low since then. We just took our time to wait for new inspiration and to do some other things. Aside music, we are into oil and gas, real estate and sports management
Styl-Plus' unique selling point
It is our understanding of music. A lot of people go into music because of their good voice but they don't have the good understanding of what they are doing. So, most times a lot of what you hear them sing are from the producer they worked with. Apart from that, we are very real people. We are not money minded otherwise we would have quarreled among ourselves. So far, we've never quarrelled about money, not even once.