FAREWELL MADAM ONOSE VICTORIA AKINLAJA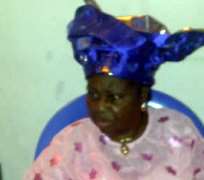 It is usually a thing of shock to come into consciousness that the phenomenon called death is the permanent termination of the biological functions that sustain every mortal. The nature of death has been for millennial a central concern of the world's religious traditions and of philosophical inquiry, and belief in some kind of afterlife or rebirth has been a central aspect of religious faith, so to say.
Can one really say God pours life into death and death into life without a drop being spilled? Watching a peaceful death of a human being reminds us of a falling star; one of a million lights in a vast sky that flares up for a brief moment only to disappear into the endless night forever. Each time I reflect very deeply, I contemplate the transient nature of human life; I realize that from beginning to end, life is impermanent like an illusion. We have not yet heard of anyone who lived ten thousand years. How fleeting is a lifetime!
More specifically, who in this world today can maintain a human form for even a hundred years? There is no knowing about who will die or when death will occur. We depart one after another more quickly than the dewdrops on the roots or the tips of the blades of grasses. So it is said. Hence, we may have radiant faces in the morning, but by evening we may turn into white ashes. Once the winds of impermanence have blown, our eyes are instantly closed and our breath stops forever. Then, our radiant face changes its color, and the attractive countenance like peach and plum blossoms is lost. Family and relatives will gather and grieve, but all to no avail? Since there is nothing else that can be done, they carry the deceased out to the fields, and then what is left after the body has been cremated and has turned into the midnight smoke is just white ashes. Words fail to describe the sadness of it all.

Mama Victoria Onose Akinlaja the world vividly recollects every moment, every memory, flashbacks of sacrifices made by you to keep your household happy. Your endearing visions, aimed at holding your home close to your heart can never be overemphasized . One intertwined family; thought nothing could break you apart. Your sincere commitments to see your children successful are memories that will remain unforgettable. Thus the ephemeral nature of human existence is such that death comes to young and old alike without discrimination. So we should all quickly take to heart the matter of the greatest importance of the after-life, entrust ourselves deeply to God in all that we do, for assured long life, goal achieving and purpose.

However, my sincere condolences go to the deceased's husband, Honourable Joseph Iranola Akinlaja (Member Federal House of Representatives, representing Ondo East/West Federal Constituency) and those that mama left behind. I couldn't hold my emotions when I read the statements he made available to the press on behalf of the entire Akinlaja family, which was distinctively written and signed by him. The statement reads :
''It is with deep regret and sorrow that we have to inform friends, loved-ones, political associates, and the general public that our own jewel of inestimable value, Madam Victoria Onose Akinlaja passed onto glory unexpectedly and peacefully last Saturday, November 19, 2011, on her hospital bed at Reddington Hospital, Victoria Island, Lagos, at the age of 57 years.

''Madam Victoria Akinlaja lived a worthwhile life with many indelible achievements to her credit; she is survived by her husband, Hon. Iranola Joseph Akinlaja, son, Akinlolu Akinlaja and grandson Akintunde Akinlaja respectively. She was widely known as a wonderful and spirit filled woman who touched many lives positively, an incisive thinker and a passionate spouse and mother who contributed immensely to the success of everything that concerns her home. She was a woman every man would want to have as wife. Burial arrangements would be announced in due course. Please, kindly remember us in your prayers in this our moment of grief. May her gentle soul continue to rest in peace.''
Written by Emmanuel Ajibulu.

Disclaimer:

"The views/contents expressed in this article are the sole responsibility of

thewillnigeria.com

and do not necessarily reflect those of The Nigerian Voice. The Nigerian Voice will not be responsible or liable for any inaccurate or incorrect statements contained in this article."
Articles by thewillnigeria.com