'Scam comic' kidnapped in Nigeria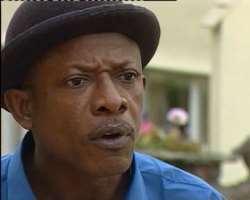 A prominent Nigerian comic actor who is famous for singing a song about e-mail scams has been kidnapped.
Nkem Owoh was last seen setting off on a highway in the east of the country, the head of the Nigerian actors' guild said.
Local media report that kidnappers have demanded a 15m naira ($98,300, £58,900) ransom for Mr Owoh.
He is the second actor to be kidnapped in the area. In August, Pete Edochie was seized and released a day later.
'Chop your dollar'
Mr Owoh is the star of at least 77 Nollywood films, with titles like Big Man... Big Trouble, and The Master - a film about e-mail fraud.
He also sang the song Oyinbo, I go chop your dollar, pidgin for "white man, I'm going to take your money", from The Master.

The song I go chop your dollar satirises the greed of fraud victims
The song was banned from being played on the radio.
In the satirical film he plays an e-mail scammer who makes a living duping "greedy white people" with advance fee fraud e-mails.
He also starred in the Nollywood sales record-breaker Osuofia in London, a fish-out-of-water comedy about a man from rural Igboland trying to get by in London.