After two weeks fasting, randy pastor impregnates teenager!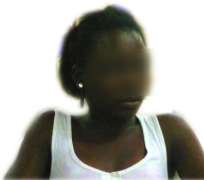 Once in a while, we hear of wolf-in-sheep-clothing men of God who go on rampage sowing their wild oats all over the places. Such perversions became a true life drama recently when a certain Pastor Abugu, after a two-week fasting on a hill, came home only to commit an unholy act, one day after returning from his spiritual cleansing. He had sex with a teenager who paid him a visit.
The 17-year-old girl, whose name is Joy Ezebuiro, is now carrying a two-month old pregnancy for the "man of God".
The girl, a native of Ezinihite in Mbaise, Imo State, thought she was going on a visit to greet someone who she described as being "like a brother to me". Indeed she was given a warm reception by the 'brother pastor' who told her he had been desirous of seeing her for a 'closed door discussion'. The story ended on a sour note as she became a victim of his randy urge.
In a chat with Entertainment Express, the nervous teenager who is expectant with a two-month-old pregnancy was all tears as she narrates the sequence of events that led to her current tribulation: "There is a mountain that he normally goes to anytime he wants to engage in a long fasting", she begins. "On September 16, 2011, he called me and told me that he would be taking off for the mountain and that he would start fasting the following day which was September 17, and that I should not bother calling him because his phone would be switched off. So I told him to remember me in his prayers."
When Pastor Abugu returned from the mountain 14 days later on September 30, he came back with a 'bursting' libido. The following day, October 1, on Independence Day, Joy decided to visit him at his residence at No 38 Sukanmi Street, Oke Ota-Ona, Ikorodu, Lagos.
The distraught girl recalls the decisive moment of that accursed visit: "He shared his experiences on the mountain with me; then suddenly, everything changed - his voice and the way he stared at me. Few minutes later, he was on top of me", she recounts tearfully.
The victim clarifies the relationship existing between her and the randy pastor prior to their unholy tango on October 1. She affirms: "We used to worship in the same church before he left for another church where he was made an assistant pastor. I took him as my elder brother."
While her family is "crying blue murder" that their daughter was raped by the randy pastor who they described as a 'black sheep', the girl, on the contrary (perhaps for fear of escalating the scandal) insists that "he did not rape me."Though the sexual advances were strange and unsolicited for, Joy affirms that she neither resisted nor raised an alarm. Her position makes the "unholy communion" anything but rape, as it is being alleged by her enraged family members and close friends.
On whether Pastor Abugu has accepted responsibility for the pregnancy, the confused teenager says: "He said he doesn't have money for anything now; therefore, I should look for money to abort the pregnancy, but later he would refund me the sum".
When contacted over the phone for his own side of the story about the pregnancy ruckus, an angry Pastor Abugu raves: "how is that your business?" Then he switches off his phone.