MAN HELD OVER EX-LOVER'S DEATH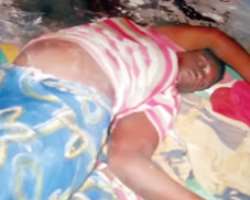 • Late Opeyemi Olawale
If Mrs Opeyemi Olawale (35) had known that her separation from her former husband would lead to her death, perhaps, she may have changed her mind. She had packed out of her matrimonial home after irreconcilable difference, alongside, Christiana, the only child in the union. But for taking the baby with her, she was allegedly killed by her estranged husband. She was two months pregnant before her death.
Investigations revealed that the marriage between Opeyemi and Sunday Adeyi (38), the man accused of being responsible for her death was the second. She had earlier married a man and the union was blessed with a child, after which she fell in love with Adeyi and the resultant marriage about eight years ago. Everything was going on well for the new family resident at Sagba Compound, in Gambari area of Ogbomoso in Oyo State. The marriage was soon blessed with the birth of Christiana.
Shortly after the birth of Christina, the two lovers started having regular quarrels. 'I stated having problem with her when my job was not going on well and I could not cater for the home as I have been doing in the past'. Adeyi told Daily Sun at the State's Crimes Investigation Department (SCID) where he was being detained in connection with the death of his former wife.
Daily Sun learnt that the ex-lovers were living a cat and mouse life until Opeyemi packed out of the house about two years ago to another man's house.
Adeyi who was away then was taken by surprise when he discovered that his wife had packed out of the house and even took with her, Christiana. 'I was not surprised that she packed out of my house but my concern is how can she take my child to another man's house'. Not only that, Adeyi, was also not comfortable with the religion of his rival. Opeyemi's new husband was said to be a Sango (god of thunder) worshipper, fuelling the fear that his child's faith could be altered by living with him.
He had located the deceased and confronted her with questions about the whereabouts of their daughter. She was said to have lied that Christiana was with her father. 'I later confirmed from people that she was actually taken to her new husband's house. The man I heard worships Sango. Imagine, I am a Christian and a Pastor in my church, a Cherubim and Seraphim Church. I raised my child through fasting and prayer. We did go to the mountains together for prayers. That means my daughter will start worshiping Sango with the man', the suspect said.
Disgusted, on Saturday, October 22, Adeyi set out to recover his daughter from his former wife. It was gathered that a fight broke out between the couple, which allegedly led to the death of Opeyemi. 'I only went to her house to ask for my daughter and when she refused to give her to me I reminded her that you can only snatch a poor man's wife not his child. I didn't raise my hand to beat her until I left the place that day'.
Opeyemi's neighbours, however, alerted the police after discovering the dead woman in her room shortly after her former husband went out in anger. Though, none of them could state exactly what transpired between them. They however, insisted that the deceased lifeless body was found after the man departure. One of the deceased's neighbours claimed in his statement with the police that he heard the two engaged in serious fight and effort to separate them proved abortive as Adeyi deliberately shut the door to avoid any intervention from outside.
He informed the police detectives that he was only able to enter the room after the suspect had left and that was when he found the woman dead. But said Adeyi : 'Though I was not happy with the way she parked out of my house because of my economic crisis, I had no reason to kill her since we both had a child together. Her neighbours are lying against me. I am only being punished unjustly'. Detectives are still investigating the matter considering the arrays of information at their disposal. A police source said, the suspect did not take things easy with his former wife in the quest to get back his daughter on the fateful day.
The state Police Public Relations Officer (PPRO), Femi Okanlawon while speaking with Daily Sun on the issue said, investigations are still on going on and that if Adeyi was found culpable he would be prosecuted.