Ban On Same Sex Marriage Law Irrevocable, Says Mark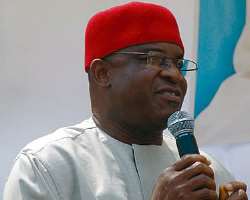 SENATE PRESIDENT, SENATOR DAVID MARK
...Assures Foreign Missions of Safety
ABUJA, December 01, (THEWILL) - President of the Senate, Senator David Mark on Thursday said the law banning same sex marriage in Nigeria is irrevocable.
Mark also assured foreign missions in Nigeria of their safety as the Federal Government has risen up to the occasion to check the menace of security threat.
Senator Mark maintained that the ban would remain in spite of the threat by foreign nations to withdraw assistance to Nigeria following its blanket ban on the controversial issues.
"It is unfair to tie whatever assistance or aid to Nigeria to the laws we make in the overall interest of our citizens otherwise we are tempted to believe that such assistance comes with ulterior motives.
"If the assistance is aimed at mortgaging our future, values, custom and ways of life, then they should as well keep their assistance," he stated.
In his brief address to the visiting German Ambassador to Nigeria, Dorothee Janetzke – Wenzel, Mark also spoke on security and the Boko Haram challenge in the nation telling the Ambassador, "There is no need to panic or contemplate leaving Nigeria on account of security. We are doing our best to contain the situation. Recent events have shown that we are capable of handling the situation."
He noted that Nigeria is aware of the challenging security situation and was exploring all reasonable local and international avenues to tackle the situation.
"I can say without fear of contradiction that our efforts are yielding results in dealing with the security situation, so there is no need for anybody or mission to contemplate leaving Nigeria. We shall overcome," the President of the Senate stated.
Nigeria and Germany he said have a long history of bilateral relationship which he canvassed should be improved upon for the benefit of both nations.
Senator Mark canvassed exchange of both educational and legislative programmes that would further cement the good relationship between the two countries.
Earlier, the German Ambassador to Nigeria, Dorothee Janetzke – Wenzel requested for stronger economic ties with Nigeria in order to boost the economy of both nations.
Janetzke – Wenzel was pleased to note that Europe that was hitherto ravaged by wars has now become a haven for peace, economic and political cooperation for the good of all.