Jonathan Forwards Ambassadorial Nominees To Senate For Approval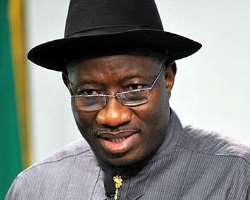 PRESIDENT GOODLUCK JONATHAN
SAN FRANCISCO, December 01, (THEWILL) – President Goodluck Jonathan has forwarded the names of ambassadorial nominees to the Senate for approval.
Amongst them are 56 career and 32 non-career nominees.
On the list is Mrs. Bianca Ojukwu, wife of deceased Biafran warlord and politician, Dim Chukwuemeka Ojukwu. She is under the Special category segment.
Also prominent on the non-career list are a former Minister of Foreign Affairs under the Umaru Yar'Adua presidency, Chief Ojo Maduekwe and the past Aviation Minister, Mrs. Fidelia Njeze from Enugu State.
Mrs. Hadiza Mustapha from Adamawa appears under the gender slot.
The career nominees are: G.O. Ehiabuche (Abia); T. Hamman Joda (Adamawa); M.S. Gereng-Sen (Adamawa); S.B. Bassey (Akwa Ibom); C.N. Okafor (Anambra); D.G Bala and M.S. Yunusa (Bauchi); P.O. Ogidi-Oke (Bayelsa); M. Adoli and I. V. Ogah (Benue); U. Sarki and G.A. Zakari (Borno); E.A. Asuquo and B.E. Archibong (Cross River); F.N. Isah and N.C. Onianwa (Delta) F. Awanbor and P.I. Iyamabo (Edo) as well as L.A. Ayodele (Ekiti); C.N. Iroala (Enugu); D.L. Madugu and B.T. Tekune (Gombe); C.E. Obi-Nnadozie (Imo); H. Ginsau and I. B. Rabiu (Jigawa); I.A.O. Nuhu and M.L. Suleiman (Kaduna).
The non-career nominees include: James Shuaibu Barka (Adamawa); Chief Asam Asam (Akwa Ibom); Okwudili O. Nwosu and Dr. Francis C. Okeke (Anambra); Eric Aworabhi (Bayelsa), Chive Kaave (Benue), Dauda Danladi (Borno); Mrs. Katharine Okon (Cross River); Nwafor Alexander and Mathias Okafor (Ebonyi); Mrs. Sifawu Inu-Umaru Momoh (Edo); Princess Victoria Onipede (Ekiti); Senator Haruna Garba (Gombe); Nonye Rajis-Okpara and Chief Eddy Onuoha (Imo); Adamu B. Ibrahim and Alhaji Tukur Mani (Katsina); Biodun Nathaniel Olorunfemi (Kogi); Olatokunbo Kamson (Lagos); Dr. Sam Jimba (Nasarawa State); Cornelius Oluwateru and Roland Omowa (Ondo); Akinyemi Farounbi (Osun); Taofik Arapaja (Oyo); Matilda Kwashi (Plateau); Abdalah Wali (Sokoto); Senator Lawan Gana Guba (Yobe); Abubakar Shehu Bunu (Zamfara) and Esther John Audu (Federal Capital Territory).