ISE-ORUN EKITI NO LONGER HEMP PRODUCER -LG CHAIRMAN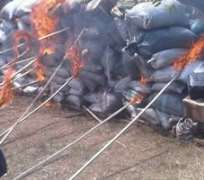 • Some of the Hemps being destroyed
Within the last four years, Ise-Ekiti, in Ise-Orun Local Government Area of Ekiti State has become known as one of the largest producers of cannabis sativa, commonly called India hemp or marijuana in Nigeria. In February 2008 the Ekiti State Command of the National Drug Laws Enforcement Agency, NDLEA, discovered about 53.7metric tons of cannabis in a storey building at Ise-Ekiti.
Following this discovery, the Ekiti State Command of the NDLEA destroyed over 4,242.847 kilogrammes of forfeited drug exhibits. At one time 70 acres of land used for illicit cannabis cultivation was also discovered. Since then the whole place has never remained the same again. Well meaning people from Ise-Ekiti started getting worried that their place has become known as one of the producers of cannabis in Nigeria.
Why should a local government area that has produced over 15professors and many other learned people be notorious as one of the top producers of hemp in Nigeria? This was the question that filled the mouths of the notable people and royal fathers from that area.
It got to a level in which virtually all national newspapers in Nigeria and many online media have reported about discovery, seizure or burning of hemp and arrest of barons in Ise-Ekiti. It was this bad impression that journalists in the state had about the place when they paid official visit to the Chairman of the Local Government Council, Hon. Femi Ajayi, recently, asking him to give account of his stewardship to people. So, when it was questions time they quickly asked the chairman what he was doing to curb the activities of hemp growers in the area.
Ajayi quickly took advantage of that question to tell the world the efforts his administration and monarchs have made to curb the activities of the drug barons in the area and how they have changed the image of the place from being the largest producer of India hemp in Nigeria to being the largest producer of Water Mellon in the state. He said; 'We are no longer producers of India Hemp. The identity of Ise-Orun Local Government Area has changed. The NDLEA officials who came then ensured they uprooted and burnt all the Indian Hemp in the forest. So, Ise-Orun is no longer a place for hemp.'
This was followed by the intervention of the Police Community Relations Committee, PCRC, in the LG Area, which was meeting regularly to ensure that effective policing of the area was done. Through the support of monarchs they were able to embark on proper monitoring of the area to ensure that nobody plants hemp or any narcotic there.
Contrary to the claim by the chairman, the state Commander of NDLEA, Mr. Bamidele Akingbade, said the trade was still thriving in the area. According to him, the LG Chairman only made the claim just not to paint his territory black, saying there are still large acres of hemp farms in the area.
He disclosed that there are forest reserves and big jungles in that LG area which made it easy and conducive for all these cannabis farmers to operate without serious challenge. He as well made it known that his command still made some seizure from that axis about a month ago. Speaking on the reasons why his men have not destroyed all the hemp farms in the area, Akingbade said his command is facing some logistic challenges that made it difficult for them to operate effectively.
He said: ' We cannot take appropriate decision when we are constrained with logistic problem. For instance, if you are going to the forest, we need Four Wheel Drive vehicles that are usually adapted to this terrain, which we don't have. We only have one Hilux van that is only alternated between the area commands and the State Command headquarters. Most of the time we have to depend on hired vehicles and personal vehicles to do surveillance and all that. This is not good enough.'
The commander lamented that most of the time when they seize huge amount of hemps from the farm they don't even have vehicles to bring them out of those areas where they were seized. He said if they have to drive for about nine hours into a thick forest where there are no constructed roads, before they could do anything meaningful there and return, it would have been too late to send the officers back to their respective area commands. And to accommodate them when there is no staff quarter is a difficult thing, looking at their financial constrains.
If they are to do any meaningful job of being able to cut down all the cannabis sativa in each farm and burning them, looking at large size of each farm, it means they would have to camp there for days. This will require a lot of money, to feed the officers, give them shelter and necessary health care, among others, which they don't have.
The NDLEA boss said the people of Ise-Orun have to be very careful and vigilant to ensure that they know whoever they want to give their land and for what purpose. He stressed that both the hemp grower and their landlords would be culpable if it was found that the land was used for hemp cultivation.