WOMAN, 86, DECRIES DEMOLITION OF HER HOUSE, TAKE-OVER OF LAND BY ESTATE DEVELOPER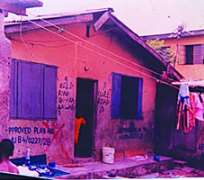 A Septuagenarian, Ahlaja Raliat Sule, is very sad. And her sadness is understandable. Daily Sun gathered that a house she built thirty-five years ago, with her hard earned money, has been demolished and the land allegedly taken over by estate developer, Mr. Adeola Faturoti.
He is popularly known in Surulere area of Lagos metropolis as, 'Master dollar'. But Faturoti's account over the matter is quite different from Alhaja Sule's claims.
According to him, he only carried out an instruction, as contained in a court order which stated that Sule is not the rightful owner of the land on which the house was built.
But Alhaja Sule said she has all the documents that authenticated her ownership of the piece of land. The woman insisted that her house was approved by the government, adding that she also has a survey plan to that effect.
In a letter of complaint, written by one of her children, Mrs. Adanikin Shakirat, which was addressed to the Lagos State commissioner for Environment, she narrated how her house was demolished illegally. She alleged that it was pulled down by Faturoti, who she said wanted to acquire the piece of land for himself.
She said: 'When we noticed that Mr. Adeola Faturoti is interested in our house, we visited the Town Planning office at Oni- Legogoro. From there, we were directed to Town Planning office at PWD, Ikeja.
There, we showed them our documents and they invited us for a meeting on the 26th of June, 2008. Faturoti refused to show up for the meeting. An officer at the planning office asked us to write down the building plan number of our house and also told us that Mr. Faturoti has no documents. We also reported the case at Itire police station.
She narrated how Faturoti came with a group of people and some policemen, from Alakara police station in July 9, 2008, and demolished their house, with the help of the Baale. 'We got help from the Area Commander of zone D, Mushin, to stop them from total demolition of the house. The Area Commander told us that the police were not aware of the demolition and that what Faturoti told them was that he needed policemen to eject somebody from a building.'
According to her, on July 10, 2008, she wrote a letter to the Lagos State commissioner of Justice & Attorney General, the Director of Public Defender, Motorways, Ikeja, Assistant Inspector General of police (AIG) in-charge of zone 2, Onikan, Lagos, and the Area Commander, Zone D, Mushin.
On 23 July, 2008, they were invited by the office of the Public Defender for mediation. But Faturoti was said to have gone there on July 22, 2008. He was said to have told them that he would not be able to come on July 23, as he had already planned to travel that day.
'They told him to try and come at the proposed day, as they could not discuss the issue with him alone. On that day, 23 of July, 2008, as we were expecting Faturoti in the office of the Public Defender, we received phone call from a member of our family, saying that Faturoti had come to pull down the house. Two officers from the office of Public Defender accompanied us to the scene of the demolition, we saw two police vehicles with registration numbers, RRS 085, PRS085LA & RRS074LA.'
She continued: 'The police team, led by one Mr. Iyiola Odunayo, came from Area 'F' police station, Ikeja. Faturoti was found sitting inside one of the police vehicles. Others present were, members of Odua Peoples Congress (OPC). The group was lead by one Lateef, a.k.a Obe. We were helpless, all efforts to stop the demolition prove abortive. That was the way they pulled down my mother's house.'
On receiving the petition from the Sule family, the head of the unit, empowered by the Lagos State government to fight for the oppressed, Mr. Yomi Ikoku, wrote to Faturoti on July 16, 2008, inviting him to his office, to meet with the Sules, for amicable settlement.
The letter from Ikoku reads in parts: 'We are a body established by the Lagos State government for the defence of the oppressed residents of Lagos State. We have received a petition from one Mrs. Adanikin Shakirat (herein referred to as the 'petitioner'), and on whose behalf we write to you.
The petitioner informed us that she is the daughter of one Alhaja Raliat Sule, whose house, sited at No. 8 Obele Road, and built about 35 years ago was demolished illegally. The petitioner also informed us that her aged mother has an approved building survey, including the building plan.'
'It is in this regard that we are inviting you to our Mainland office at 154, Mutarla Muhammed Way, Ebute-Meta, by Total filling station, at 11a.m, on Wednesday, July 23, 2008, to hear your side of the story, with a view to resolving the matter amicably.'
Daily Sun gathered that he refused to go, despite the fact that he got the invitation letter. When contacted on phone, Faturoti confirmed that Sule's house was demolished and the land taken over, but added that he was only acting on the directives of the Lagos State government.
He explained that the piece of land, on which the said house was built was acquired illegally by Sule's family. He said he got a Certificate of Occupancy (C of O), from the state government and that a court order, authorized him to demolish and take over the property, before executing the action.
Asked why he did not honour the invitation by Ikoku, he said he could not do so, as it came the same day he got the court order to demolish the house. Explaining further, he said: 'It is the government that demolished the building and took over the land. I was only part of the exercise because, I am a developer and I got the C of O of the land from the Lagos State government.'
'We also got a court order, to take possession of it, before it was demolished. The Sules do not have legal papers for the property. I could not honour Mr. Ikoku's invitation, because that was the day I was asked to come to the court, to get the order of possession of the property. I cannot comment more on this issue, because we will soon meet in court.'