YORUBA MOVIE STAR,WUNMI CAUSES STIR IN MECCA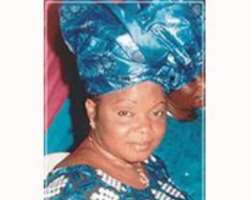 It was indeed drama galore when popular Yoruba actress Hassanat Taiwo Akinwande popularly known as Wunmi,who years back was arrested for a drug-related offence by the National Drug Law Enforcement Agency (NDLEA) went for the Holy Hajj in the town of Medina,Saudi Arabia to beg for forgiveness for her much advertised drug related sin.
According to an eye witness who was at the scene,the actress drew a lot of attention to herself when she was spotted by some group of worshipers who also went on the holy pilgrimage from Nigeria.
The actress was said to have displayed a care free attitude as fans and other pilgrims stared at her in consternation.The drama took a turn from comedy to an epic story when the actress was set to perform the traditional rite of "stoning the devil" which is customary with the Muslim holy pilgrimage.
Our source revealed that the actress,who said she could not allow herself to be stoned to death by the millions of worshippers who had come from far and wide to perform the same rite,simply dropped the stones which were supposed to be used for the rites by her.
An onlooker,who was beside the actress,was later seen talking to a Nigerian pilgrim.According to the onlooker,Wunmi was heard saying in her traditional dialect(Yoruba)" Satan this is your stone,I live and eat by the rule of the street,let me continue to succeed"
Our source revealed that as soon as she uttered that line she turned her back and exited from the area.The whole drama was said to have elicited a lot of furrowed eyes and frowns to some extent that even Wunmi herself could not comprehend why she created such jeers.
Let's hope she has finally learnt her lesson from this ablution of sins,since the holy pilgrimage to Mecca is one of the five pillars of Islam and this Wunmi has performed.