THE MISERABLE LIFESTYLE OF STAR ACTOR KELVIN IKEDUBA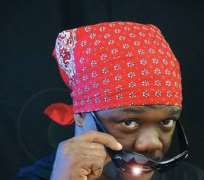 In the Yoruba sector of the movie industry,Kelvin Ikeduba happens to be the most patronized Igbo actor as he moves from one movie location to the other with ease.Not only that,he is just too good at what he does and many have come to attribute this to his having been born and bred in Lagos.
Kelvin speaks fluent and undiluted Yoruba language although he is by birth from Delta State.He is at his best when interpreting gangster,bad boy or spoilt brat roles.
The gist about Kelvin is that his lifestyle has become worrisome to many of his pals and associates.What is most worrisome to many however is that despite his popularity and the fact that he gets regular jobs,both In the English and Yoruba sectors of Nollywood Kelvin still lives inside the room and parlor in which he was born.His pals in Ebute Meta told us that Ikeduba still lives in that apartment that was rented by his mother with his siblings.
This singular act of his has got many of his friends worried and they had on many occasions talked him into walking away to a more descent accommodation befitting a movie star of his status.
The situation got so disturbing that a friend we learnt,even told him that he will vacate his apartment,a mini flat,for Kelvin to take over.Interestingly,the friend was still having almost a year's house rent already paid and the friend was not asking Kevin for refund.
We learnt that Kelvin declined the offer and even got angry and told the friend that he,the friend,was ridiculing him and that does the friend think he can't afford a decent apartment.They said,Kelvin never took the offer.Many have come to attribute his love for the room and parlor apartment as an expression of his having phobia for good and decent home.
Others say it is all because Kelvin lacks focus even though he has the money for a better pad.They argue that Kelvin should have left the Ebute Meta home for his brothers and sisters and relocate somewhere else as a movie star even if it is Ikorodu where most Yoruba movie stars are residing either in their own houses or tastefully appointed rented apartments.
They argue that it will not stop him from taking good care of his siblings if that is his main reason for staying back in the ghetto where Kelvin is said by those who know him to come out in the morning to shout for 'Omo Ologi' and 'Alakara', meaning pap seller and bean cake seller.
Again,Kelvin who is in his late thirties or early forties is yet to be married and the argument is that no babe will want to be married to a movie star living in a room and parlor with his siblings.
Some people have however come to defend the movie star saying he might be waiting to be married before he moves to a decent apartment or that he is erecting a structure somewhere and prefers to wait and move in once and for all instead of renting another apartment.