Non-Completion Of Abuja Rail Project Worries House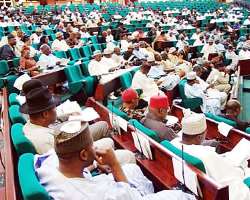 ABUJA, November 30, (THEWILL) - The House of Representatives today urged President Goodluck Jonathan to immediately reactivate the Abuja light rail project and consider extending the rail line to cover Nasarawa, Kogi, Niger and Kaduna states.
The House equally called on the Federal Capital Territory Administration (FCTA) to commence the construction of pedestrian bridges at various locations on Nnamdi Azikiwe Express way for ease of movement and elimination of preventable accidents.
These decisions were taken at Wednesday's plenary following the adoption of two separate motions.
Hon. Joseph Haruna Kigbu had in a motion titled "reactivation of the Abuja light rail project" noted that Abuja was experiencing protracted traffic congestion due to lack of alternative means of transportation like the rail system.
He lamented that despite the traffic congestion in Abuja, government has consistently concentrated on roads construction and expansion with very minimal investment on the rail transport system.
According to the lawmaker, the Abuja light rail project was launched in 2007 by former President Olusegun Obasanjo but up till date nothing much has been achieved in spite of the 2011 deadline set for its completion. He said over $213.8 million was paid to the china Civil Engineering and Construction Company but no significant progress has been made.
The lawmaker said he was "worried that the only means of transportation which is road is shrouded with protracted traffic chaos and responsible for the incessant road traffic accidents within Abuja and its entry and exit routes."
Hon. Yusuf Ayo Tajudeen (PDP, Kogi) had in a motion titled 'urgent need to construct pedestrian bridge along the Nnamdi Azikiwe by-pass in Abuja' informed the House that the road linking Garki, Wuse Central Area, Mabushi and Apo district has a very high vehicular and human movement all hours of the day.
He said the Nnamdi Azikiwe by-pass according to the Federal Road Safety Commission (FRSC) statistics records road traffic accidents daily expressing worry that 'many lives have been lost and fatal injuries sustained as a result of roads traffic accidents on the road'. He therefore appealed to his colleagues to pass the motion as a way of helping to address the problem.
The pedestrian bridges according to Tajudeen are to be built at the Minister's Hill, NICON junction, Mabushi Junction, Berger junction, Wuye junction and Area 3 junction.
Both motions were unanimously adopted and have been referred to the House committee on Federal Capital Territory (FCT), land transport and FCT Area councils for further legislative scrutiny. The House in adopting the motions also called on the federal government to direct its appropriate agencies to carry out regular traffic management at all sections of the road.
The Nnamdi Azikiwe by-pass runs through Katampe Bridge, Banex plaza junction, Mabushi junction, old Federal Secretariat junction and terminates at the Apo Abattoir roundabout.