Representatives Declare Proceeds From Sale Of FG Houses Missing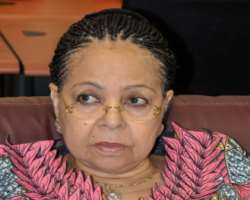 HOUSING MINISTER, MS. AMA PEPPLE.
ABUJA, November 30, (THEWILL) - The House of Representatives has directed the chairman of the Presidential Implementation Committee on the sale of federal government landed properties to furnish it with the details of the exercise within two weeks while decrying the absence of information on the deal.
The resolution was taken at Wednesday's plenary of the House following a motion sponsored by Hon. Abdullahi Dan-Alkali and two others.
While leading debate on the motion, Dan-Alkali noted that the decision of the federal government to sell substantial parts of its landed properties in early 2000 has become a policy of government. He listed some of the properties sold in 2000 naming 1006 flats at Ikoyi in Lagos, Apo Legislators quarters in Abuja and the Federal Secretariat Lagos.
He expressed concern that no ministry, department or agency of government can categorically account for the proceeds from the sale of the properties adding that there is need to plough them for public benefit through appropriation.
He said the properties sold were built or acquired with public funds to serve the Nigeria's interest before they were sold hence the proceeds accruable are public funds. These properties according to him included residential houses and plots.
The House committee on housing and habitat has been mandated to look into the matter and report back to the House.
Meanwhile, the House today called on the FCT Water Board to effect prompt maintenance of its facilities in order to facilitate constant supply of water within the territory. It also tasked the executive arm to take urgent steps to ensure speedy reconstruction of the road leading to the Gurara dam, which services Abuja.
The House took the decision after adopting a motion sponsored by Hon. Jagaba Adams Jagaba lamenting the near absence of potable water in most districts in the capital city.
He said the scarcity of water in the city has led to a "situation where local vendors, hauling carts laden with jerry cans of water litter the streets of Abuja, the pride of the nation; thereby creating unwholesome impression in the minds of foreign nationals about our country."
Jagaba said the problem could be solved if the Gurara Dam in Kaduna State and the Lower Usman Dam, which supplies water to the FCT are made easily accessible. According to him, due to the poor state of roads leading to the facilities, routine maintenance takes longer time to be effected thereby compounding the water supply situation in the FCT.
Both motions were unanimously adopted and referred to the relevant committees for further legislative actions.