Gbagbo Faces Charges Of Crimes Against Humanity: ICC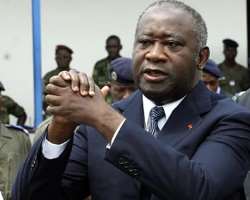 IVORY COAST'S FORMER PRESIDENT LAURENT GBAGBO ATTENDS AN OFFICIAL CEREMONY IN ABIDJAN IN A FILE PHOTO.
Former Ivory Coast President Laurent Gbagbo was arrested and flown to The Hague overnight to face charges of crimes against humanity at the International Criminal Court, the first former head of state to be tried by the ICC since its inception in 2002.
The world's top war crimes court opened an investigation last month into killings, rapes and other abuses committed during a four-month conflict in Ivory Coast triggered by Gbagbo's refusal to cede power to Alassane Ouattara in an election last year.
Fadi El Abdallah, an ICC spokesman, said Gbagbo would make an initial appearance in court within a few days, where he would be informed of his rights and the charges brought against him.
"Mr Gbagbo allegedly bears individual criminal responsibility, as indirect co-perpetrator, for four counts of crimes against humanity, namely murder, rape and other forms of sexual violence, persecution and other inhuman acts," the ICC said in a statement on Wednesday.
Gbagbo's arrest and detention in The Hague was welcomed by human rights groups, but could prove divisive in Ivory Coast and trigger unrest among his supporters.
The timing of the transfer is particularly sensitive, coming just days before a December 11 parliamentary election which Gbagbo's FPI party is already boycotting in protest at the treatment of its top officials arrested in connection with the conflict.
Gbagbo's aides have already branded the ICC "victor's justice", saying it demonstrates the bias of international players towards former top IMF executive Ouattara, who came to power only after French soldiers helped him oust Gbagbo.
Gbagbo's arrest marks a big breakthrough for the ICC prosecutor, Luis Moreno-Ocampo, who has up to now struggled to get hold of some of his biggest targets.
"It is exactly a year since the presidential election that led to one of the worst episodes of violence Cote d'Ivoire has ever known, with ordinary Ivorians suffering immensely, and crimes allegedly committed by both parties," Moreno-Ocampo said in a statement.
"We have evidence that the violence did not happen by chance: widespread and systematic attacks against civilians perceived as supporting the other candidate were the result of a deliberate policy."
The prosecutor said crimes were committed by both parties in the election, and that he expected to bring more cases before the court irrespective of political affiliations.
"Leaders must understand that violence is no longer an option to retain or gain power. The time of impunity for these crimes is over," he said.
Gbagbo, 66, is one of between two and six people the ICC prosecutor has said he wants to focus on in a civil war that killed 3,000 people and uprooted more than a million.
The conflict ended only when French-backed pro-Ouattara forces captured Gbagbo on April 11.
WHISKED TO THE HAGUE
Both the ICC and the Ivory Coast authorities tried to keep Gbagbo's arrest and transfer to The Hague secret to avoid any risk that it could be derailed or provoke unrest.
The arrest warrant was issued under seal, a process that ensures it is kept secret until the last minute.
Gbagbo was whisked by helicopter on Tuesday from remote Korhogo in northern Ivory Coast, where he had been under house arrest since his capture, and put on a plane to Rotterdam where he arrived on Wednesday morning. A convoy of police vans drove him to the detention centre in The Hague.
His trial by the ICC is likely to prove as divisive as his election loss -- almost half of Ivorians voted for him.
Seeing Gbagbo on trial at the ICC could anger many Ivorians after Moreno-Ocampo said Libya could try Muammar Gaddafi's son Saif al-Islam at home, despite an ICC warrant for him.
The militiamen who backed Gbagbo during the dispute have largely fled, been disarmed or are in hiding, but popular anger, especially in Gbagbo's homeland in the west, could easily flare.
"This victors' justice is in reality nothing but a political manoeuvre designed to liquidate President Gbagbo," his aide Toussaint Alain said in a statement.
The charge of victors' justice would be easier for Ouattara to refute if any of his men had been arrested for alleged crimes during the conflict, but none have.
"Gbagbo's transfer to the ICC is a welcome step to bring justice to victims of grave crimes in our country. But it is critical that the court investigate all serious crimes committed by all parties since the outbreak of armed conflict in 2002," said Ali Ouattara of human rights group Côte d'Ivoire Coalition for the ICC (CI-CPI) in a statement.
"Only through fair and impartial justice addressing all sides of the conflict can the ICC avoid criticisms of bias and thus truly help bring justice and reconciliation to Ivorians," he added.
REUTERS