Biden says U.S. Pullout Brings New Relations With Iraq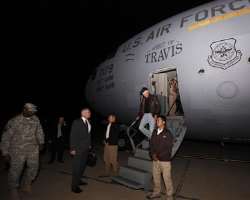 VICE PRESIDENT JOE BIDEN DISEMBARKS FROM THE PLANE AS HE ARRIVES IN BAGHDAD, NOVEMBER 29, 2011.
Vice President Joe Biden said on Wednesday the U.S. troop withdrawal from Iraq opened a new phase in relations between the two countries, including a robust security partnership.
The remaining 13,000 U.S. troops in Iraq are scheduled to leave by the end of the year when a bilateral security pact expires, nearly nine years after the U.S. invasion that ousted Sunni dictator Saddam Hussein.
"The United States of America keeps its promises," Biden said at a meeting with Iraqi Prime Minster Nuri al-Maliki during a visit to Baghdad.
"Our troops are leaving Iraq and we are entering on a new path together ... a relationship between two sovereign nations."
Violence in Iraq has fallen sharply since the height of the sectarian slaughter in 2006-2007, and Maliki leads a fragile power-sharing government consisting of Shi'ite, Sunni and Kurdish political blocs.
U.S. President Barack Obama announced last month that U.S. troops would come home at the end of the year as scheduled after talks to keep a small number of American troops in Iraq as trainers fell apart over the sensitive issue of immunity.
"We will continue to discuss with your government over the substance of our security arrangements, including areas of training, intelligence and counter-terrorism," Biden said.
Saying Iraq had earned the respect of all Americans for enduring decades of tyranny under Saddam, and the eight years of militant violence that followed the U.S.-led invasion in 2003, Biden also noted the loss of U.S. lives.
Almost 4,500 U.S. troops have died since the invasion. The death toll among Iraqis is much higher, and is estimated at least around 60,000, according to government figures.
Iraqi forces are generally seen as capable of containing a stubborn Sunni insurgency tied to al Qaeda and rival Shi'ite militias the U.S. says are backed by neighboring Iran.
But insurgents still carry out almost daily bombings and attacks, many on local security forces or government offices in an attempt to show Maliki is unable to provide stability.
At least 19 people were killed on Monday when a suicide bomber attacked a military base in the town of Taji, and another person was killed and three more wounded by a blast in the car park of the Iraqi parliament.
REUTERS