Hunt for Nigerian Islamist sect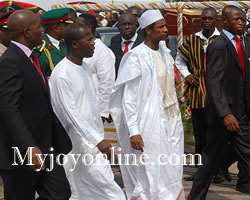 President Yar'Adua said 'a potentially dangerous problem' had been tackled
Nigerian troops are tracking down members of an Islamist sect who went on a killing spree in northern cities.
Soldiers are searching areas near the home of sect leader Mohammed Yusuf in Maiduguri, the capital of Borno state.
On Tuesday the army shelled the compound, exchanging heavy gunfire with militants. At least 140 people have been killed in three days of violence.
President Umaru Yar'Adua said the army had acted to nip a potentially dangerous problem in the bud.
Nigeria's security services have been flooding into Maiduguri, the city worst affected by the violence, the BBC's Caroline Duffield reports.
Maj Gen Saleh Maina told the Associated Press news agency that troops were hunting for sect members in homes and a mosque and near the railway station. He said the operation was being carried out "to prevent further loss of lives and property".
Residents and civilians have been told to leave the area.
Mr Yusuf's group, known as Boko Haram, is being blamed for attacks on police stations and government buildings in four states in Nigeria.
Many civilians were also shot dead or stabbed at random.
Boko Haram is against Western education. It believes Nigeria's government is being corrupted by Western ideas and wants to see Islamic law imposed across Nigeria.
State of alert
Late on Tuesday, explosions and gunshots could be heard from the Doidamgari area of Maiduguri, where Mohammed Yusuf's home is situated and the Boko Haram have their spiritual headquarters.
President Umaru Yar'Adua ordered Nigeria's national security agencies to take all necessary action to contain and repel attacks by the extremists.
"It is the government that has moved to nip a potentially dangerous problem in the bud," he said before leaving on a visit to Brazil.
"These people have been organising, penetrating our societies, procuring arms, learning how to make explosives and bombs to disturb the peace and force abuse on the rest of Nigerians.
"And I believe the operation we have launched now will be an operation that will contain them once and for all."
Outside Maiduguri, there is a heightened state of alert across the northern states:
• In the city of Kano, police arrested 53 people after an attack on a police station outside the city on Monday; police also shot and killed three suspected militants as they tried to reach Maiduguri
• In Sokoto, in the far north-west, police arrested five men said to have been caught in the act of planning an attack
• In Bauchi, scene of the first bloodshed on Sunday, 176 people remain under arrest
A BBC reporter counted about 100 bodies of residents and militants in the streets of Maiduguri on Monday.
Maiduguri police said 103 had died in the violence in the city, including 90 members of Boko Haram, eight police officers, three prison officials and two soldiers.
At least 39 people were killed in the violence in Bauchi.
Sharia law is in place across northern Nigeria, but there is no history of al-Qaeda-linked violence in the country.
The country's 150 million people are split almost equally between Muslims in the north and Christians in the south.