CELEBRITY QUOTE: STAR ACTOR YEMI SOLADE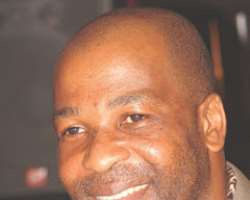 It was this Bunmi Oladipo that wanted me,just as a lot of people do and after accepting her,we chatted for a day and that was it.I think about a week or more after,I started having problems with my PIN.I am using Glo and it was so frustrating.Then the thing came on again.She now called me again and started doubting if I am the real Yemi Solade.I now asked her how do I begin to prove who I am to you again.I have told you my real name.She now said most people do all sorts of things,and I said well,since I am not any other person,I can't be part of such things.My name is Yemi Solade.So,we had it all then and after the crash of the Blackberry thing,I came back adding people afresh.
Because she had my number,she now called me to be sure I was the one.She now started talking with a different accent,I didn't believe it was the same person I spoke with earlier.I now said,no,no this couldn't have been the person that called me who I had chatted with,who was okay on phone when we had a chat.
I now discovered she was being cantankerous and left.I hate nonsense,I just blasted her immediately.I now went to Facebook and wrote there that if someone I thought was a professional,who called herself a lawyer in New York,United States of America,who I expected a lot of decorum from would behave this way,let me alert other celebrities.That was why I went on my Facebook again and wrote,"Try to watch out for this so,so person.
Maybe I am the one who ignited what she did eventually but I have not read anything she has written about me and I am not bothering myself about anything like that.
I asked people, how is it possible to harass her sexually through BB? Maybe she got my pictures where I was recording.
You can imagine a person who claims to be a housewife with children.
Let the court case come,we will see how she will establish it that somebody was harassing her sexually through BB.They will help me ask her how she got my PIN in the first place.
click the link below to go to...
STAR ACTOR YEMI SOLADE IN BIG MESS:ACCUSED OF HARASSING MARRIED WOMAN.