OJUKWU'S BURIAL: WE DON'T WANT TO BE RUSHED ON DATE, PROGRAMME -FAMILY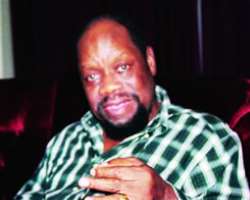 •Dim Chukwuemeka-Odumegwu Ojukwu
The Ojukwu family said yesterday that it would not be rushed into fixing a burial date or producing a programme for the Ikemba Nnewi. Eighty-year-old Emmanuel Ojukwu, first cousin to the late Igbo leader told newsmen at Ojukwu's residence in Enugu that the family was taking its time to put things in order, make proper consultations before rolling out a burial programme for the late Igbo idol.
Said he; 'we don't want to be rushed; we are taking our time, we are making concerted efforts. The family will sit down together, co-operate with the government and plan the burial together; we don't want people to be talking from different angles that's why I have been avoiding the press. This is the first time I am talking to the press.
'So, the family is coming out with a programme, but first of all, we want to articulate everything. Some people are saying they have not been officially informed they will eventually be officially informed. You know he is in London for now, we have to get ourselves together, plan with the government and then, we will bring out the programme for everybody to see.
A week-long mourning and prayers have been announced in the entire South East from tomorrow till December 7 while the entire Igbo nation has been directed to stay at home when the burial date is eventual fixed.
The elder Ojukwu said that the entire Nnewi, home of the departed Biafran leader, is mourning just like everybody; 'this death affects everybody in Igboland, in Nigeria, in Africa, all over the world, he has touched the whole world.'
He described Ojukwu as a thorough bred Igbo son who did not bring overbearing influence into the family; 'I am number two, he takes his position, in the family; once, we get to the family, everybody knows his position, you might be the president of the whole world, but in the family everybody takes his position, and we all know our positions; we all know our roles; you know we are republican by nature.
'In our family like most Igbo families, we are well-organized, we all know our positions once you come to the family you know your place. Ojukwu never tried to lord anything over his elders in the family because of his influence in the country or in the world.
' I think he is number seven we have our elders, in fact I am older than him by two years; he was born 1933 I was born 1931; when we shared things I take before him. In-fact when he returned from Ivory Coast, he was invited by Mbakwe and I went with him and we toured the whole of Imo State.