NNPC Probe: Reps Investigates Ajuonoma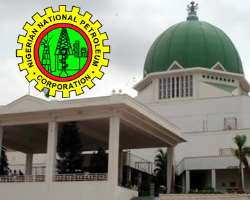 ABUJA, November 29, (THEWILL) - The House of Representatives today condemned comments credited to the group general manager, public affairs of the Nigerian National Petroleum Corporation (NNPC), Dr Levi Ajonuma, describing the comments of the spokesman as 'irresponsible'.

It therefore directed its committee on ethics and privileges to investigate the comments and make appropriate recommendations to the House. Ajuonoma had in an interview with one of the national dailies at the weekend described as unnecessary, the recently concluded public hearing carried out by the House of Representatives joint committee on finance, petroleum resources (upstream and downstream), and gas resources on the alleged indebtedness of the Corporation to the Federation Account to the tune of N450 billion.

The spokesman was quoted in the interview as saying that "public hearing is not the first thing you do when you are just less than six or nine months in the job. That's not what to do. So, you have to continue to educate and re-educate and educate. As I said, I'm not proud to say what the white man or Europeans said that if you want to hide anything from a black man, write in a book.

"Those people (members) do not read and you know that the least qualification to be a lawmaker in advanced democracy is that you must be a lawyer. But here, we are learning. It should be made clear to anybody who comes to Abuja as a lawmaker that the first thing you will assemble is a good library; the first people you must employ is good research assistants so that when issues that you are interested in are raised, they must get you up-to-date information...."

But rising under matters of privilege today, Hon. Nkoyo Toyo (PDP, Cross River) who took exception to the interview raised a point of order citing infringement of her privilege. She said the comments were derogatory to an institution like the House of Representatives, and called for appropriate sanctions.

Supporting the motion, Hon. Bimbo Daramola (ACN, Lagos) expressed disappointment at the remarks credited to the NNPC spokesman and described Ajuonuma's assertions as a 'slight on the parliament'.
He said the current House was populated by educated people of long standing experience in their respective areas of human endeavour.
"Who is Levi Ajuonuma to direct the House on what it should do? We must learn to respect institutions, and not to cast such aspersions," he noted.

In his submission, Hon. Babale Bashir said Ajuonuma should be made to explain what necessitated his comments, while Pally Iriase (ACN, Edo) who though blamed his colleagues in the committee that was doing the investigation for not reconvening to study documents forwarded by NNPC several weeks after, however said that it was bad for anybody to draw conclusions on a matter that was still pending before the committee.

Chairman of the committee on appropriation, Hon. John Enoh (PDP, Cross River) and his FCT counterpart, Hon. Emmanuel Jime (PDP, Benue) advised that Ajuonuma should not be given undue publicity, adding that the assertions credited to him was a calculated distraction on the Chamber's legislative activities.
"Leadership had its burden; we should accept it as one of the burdens of our responsibilities. We need not give him so much credibility over this," Jime said, adding that criticisms should rather ginger members in carrying out their assigned assignments more assiduously.

Minority whip of the House, Hon. Samson Osagie (ACN, Edo) in his contribution argued that "we are not discussing Levi Ajonuma but the irresponsible comments that came out of his mouth."
However, Hon. Ken Chikere (PDP, Rivers) in his reaction cautioned his colleagues against seeking favours from government agencies in the name of oversight.
"Let us not look for too much money when we go out," he said.

Contributing, Minority Leader of the House in his submissions called on members to exercise restraint stating that Ajonuma was entitled to his opinion as guaranteed by the constitution.
"Levi has the right to express himself, and we are in a position to be held in high scrutiny. We must address the criticisms," he said.
Ruling on the various submissions, Speaker of the House, Aminu Waziri Tambuwal who presided over the session referred the matter to the Committee on Ethics and Privileges for further action.