Counting Starts In Violence-Hit Congo Poll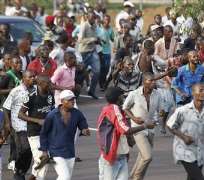 First results emerged from the Democratic Republic of Congo's chaotic elections on Tuesday but some voters were still casting their ballots in a vote tainted by confusion, violence and allegations of fraud.
Organizers pushed ahead with the presidential and parliamentary elections in the vast Central African nation on Monday despite fears that logistical delays and complaints over the process would set the scene for a bitterly contested result.
Mounoubai Madnodje, spokesman for the U.N. mission in Congo known as MONUSCO, said the United Nations was still delivering electoral materials on Tuesday to some areas which have yet to vote, including the central province of Bandundu.
"We've offered our helicopters to transport materials, so yes, we're still continuing to help," Madnodje said, adding the security situation across the country was generally calm.
President Joseph Kabila faced ten rivals, including veteran opposition leader Etienne Tshisekedi. About 18,500 people are also running for 500 seats in parliament.
The election commission said the ballot was "satisfactory." Voting in some areas carried on into the night, while others were asked to be patient and mark their ballot on Tuesday after some ballot papers did not arrive on time.
Across the nation, voters complained that confusion over voter lists made it difficult for many to know where to vote. Tensions flared and violence was reported at many polling stations during voting, over allegations of fraud.
"Here in Kinshasa we don't have any confidence in the process but in this polling station we have worked hard (to stop fraud)," said Henriette Kilonda, an election official at the Ecole de la Gare voting center in Gombe, central Kinshasa.
City residents scanned initial results posted outside 18 polling stations while Kilonga and fellow officials were readying the transfer of ballot papers to compilation centers. It was too early to ascertain any voting trends and full provisional results are not due till December 6.
The election commission did not say how many people were unable to vote on Monday or when they would do so, but a senior international election observer said the figure was in the hundreds of thousands.
CHAOS, VIOLENCE
In counting that lasted through the night in some places, some ballot papers in the legislative vote were dozens of pages long, so officials had to flick through them looking for a single "X" marking a vote.
"We have 63,000 polling stations. If of those we have even 1,000 which cause problems, that's manageable. For us we just want everyone to be able to vote," election commission spokesman Matthieu Mpita said on Monday evening.
At least three people were killed when masked gunmen attacked a polling station in the copper-producing province of Katanga in the south. There were numerous reports of violence and alleged fraud elsewhere.
Anaclet Tshimbalanga, the president of TDH, a human rights group in West Kasai province, said at least 12 polling stations had been torched in the provincial capital, Kananga, after residents said they had found ballot papers already marked in favor of Kabila.
"I saw them, other observers saw them, journalists saw them, they exist," he stated, adding delays meant voting was continuing late into the night.
The business center of the largely pro-Tshisekedi capital, Kinshasa, was calm in the morning. Overnight, there was a heavy police presence on the streets and reports of gunfire coming from some neighborhoods.
Highlighting the risk of the vote polarizing the nation, Kazadi Nyembwe, a senior figure in Kabila's PPRD party said its supporters had been intimidated in opposition strongholds, especially the Kasai provinces.
"Things have not gone properly. PPRD supporters weren't even allowed to go into (polling stations) unless they agreed to voted for Tshisekedi," he told Reuters late on Sunday.
Congo's first post-war election was held in 2006, drawing a line under years of war and chaos and paving the way for renewed investor interest in a country rich in copper, cobalt, gold and other minerals. That vote was largely seen as free and fair.
"I voted in 2006. It was not at all difficult then," said Murphy Mbemba, a 30-year-old artist, in Kinshasa.
"(But) I cannot find my name on any center (this time). I don't know where I should be voting," she said.
REUTERS