Egypt Islamists Pull Out Stops In Post-Mubarak Poll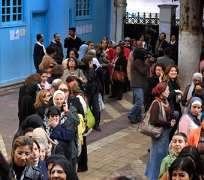 Egyptians voted for a second day on Tuesday in a parliamentary election that Islamists hope will sweep them closer to power, even though the army generals who took over from Hosni Mubarak have yet to step aside.
The poll, the first since a revolt ousted Mubarak on February 11, has unfolded without the mayhem many had feared after last week's riots against army rule in which 42 people were killed.
The United States and its European allies are watching Egypt's vote torn between hopes that democracy will take root in the most populous Arab nation and worries that Islamists hostile to Israel and the West will ride to power on the ballot box.
They have faulted the generals for using excessive force on protesters and urged them to give way swiftly to civilian rule.
The well-organized Muslim Brotherhood, banned but semi-tolerated under Mubarak, said its political wing, the Freedom and Justice Party (FJP), had done well in the voting so far.
"The Brotherhood party hopes to win 30 percent of parliament," senior FJP figure Mohamed El-Beltagy told Reuters.
The leader of the ultra-conservative Salafi Islamist al-Nour Party, which hopes to siphon votes from the Brotherhood, said organizational failings meant the party had under-performed.
"We were not dispersed across constituencies, nor were we as close as needed to the voter. Other parties with more experience rallied supporters more effectively," Emad Abdel Ghafour said in the coastal city of Alexandria, seen as a Salafi stronghold.
But he told Reuters the party still expected to win up to half of Alexandria's 24 seats in parliament and 70 to 75 nationwide out of the assembly's 498 elected seats.
Abou Elela Mady, head of the moderate Islamist Wasat Party, made no predictions, but said the party would accept the result despite electoral violations. "The big turnout was the main gain, regardless of the result," he told Reuters.
No official turnout figures have been issued, but judges supervising individual polling stations in Cairo and other cities gave estimates varying from 30 to 60 percent of the 17 million people eligible to vote in the first round.
Les Campbell, of the Washington-based National Democratic Institute, one of many groups monitoring the election, said it was "a fair guess" that turnout would exceed 50 percent.
In one school-turned-polling station in Cairo, women in Islamic headscarves and others in Western clothes, queued with their children and grandchildren to vote, with banners overhead and posters of candidates on walls. Soldiers welcomed them and judges kept a good-natured eye on proceedings.
ISLAMIST VOTE-GETTERS
Islamists did not instigate the Arab uprisings that have shaken Tunisia, Egypt, Libya, Syria and Yemen, but in the last two months, Islamist parties have come out top in parliamentary elections in Morocco and post-revolutionary Tunisia.
Egyptian Islamists want to emulate those triumphs, but it is unclear how much influence the previously toothless parliament in Cairo can wield while the generals remain in power.
If the election process goes smoothly, the new assembly will enjoy a popular legitimacy the generals lack and may assert itself after rubber-stamping Mubarak's decisions for 30 years.
"Real politics will be in the hands of the parliament," said Diaa Rashwan, an Egyptian political analyst.
One member of the ruling army council has said parliament will have no power to remove a military-appointed government tasked with running Egypt's day-to-day affairs until a promised presidential election leads to civilian rule by July.
Another council member, General Ismail Atman, said the start of the election showed the irrelevance of protesters demanding an end to army rule in Cairo's Tahrir Square and elsewhere.
"This proves the demonstrations in Tahrir Square ... had no effect on building the first elected state institution since the revolution, especially since only a tiny few are in Tahrir," Al-Shorouk daily quoted him as saying at a Cairo polling station.
The army council assumed Mubarak's formidable presidential powers when it eased him from office on February 11. Many Egyptians praised the army's initial role, but some have grown angry at what they see as its attempts to retain its perks and power.
Many Egyptians had feared election violence after last week's bloodshed when frustration against army rule boiled over into the worst bloodshed since the anti-Mubarak uprising.
"I wasn't sure whether to vote yesterday for fear of violence that marred past elections. But the impressive order and security have encouraged me to venture out," said Fathi Mohammed, 56, a port employee in Alexandria.
ELECTORAL VIOLATIONS
The election is taking place in three regional stages, plus run-off votes, in a complex system that requires voters to choose individual candidates as well as party lists. Full results will be announced after voting ends on January 11.
Election monitors have reported logistical hiccups and campaign violations but no serious violence.
"To a great extent we did not violate election rules. There was no use of religious slogans on our part," the Nour Party's Abdel Ghafour said, noting that Salafis were new to politics.
Armed with laptops and leaflets, party workers of the Muslim Brotherhood's political wing and its Islamist rivals have approached muddled voters to guide them through the balloting system and nudge them toward their candidates.
In the Nile Delta town of Kafr el-Sheikh, Muslim Brotherhood workers were selling cut-price food in a tent where they also distributed flyers naming the FJP candidates in the area.
Some Egyptians yearn for a return to stability, uneasy about the impact of political turmoil on an economy heading toward a crisis sure to worsen the hardship of impoverished millions.
Smooth polling helped Egypt's benchmark share index to jump more than five percent.
Others worry that resurgent Islamist parties may dominate political life, mold Egypt's next constitution and threaten social freedoms in what is already a deeply conservative nation of 80 million people whose 10 percent Coptic Christian minority complains of discrimination from the Muslim majority.
As voting resumed in the chilly, rain-swept coastal town of Damietta, Sayed Ibrahim, 30, said he backed the liberal Wafd Party over its main local rival, the Islamist Salafi Nour Party.
"I'm voting for Wafd because I don't want an ultra-religious party that excludes other views," he said, in jeans and a cap.
REUTERS