Olajide Oluwaseun Noibi Sentenced To Time Served In LA Stowaway Case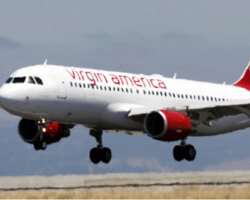 A man convicted of getting a free ride from New York to Los Angeles using an expired boarding pass with someone else's name on it will be freed from federal prison having already spent five months behind bars.
Olajide Oluwaseun Noibi, 24, was sentenced Monday in a Los Angeles federal courtroom to time served after he pleaded guilty in August to a stowaway charge that carried a maximum five-year prison term. U.S. District Judge Manuel Real ordered Noibi, who has dual citizenship in the U.S. and Nigeria, to serve one year of supervised release and pay more than $950 in restitution to Virgin America.
"I am not just sorry for putting other flights in U.S. airspace on the 24th of June at risk but I'm deeply sorry for any heartache I might have caused," Noibi wrote in a letter for the sentencing. Noibi, dressed in a white prison jumpsuit with his head hanging and his eyes closed, did not speak at the sentencing. In the letter, he called his actions "reprehensible, disgraceful and downright absurd."
Authorities said Noibi's actions had nothing to do with terrorism – he just wanted a free flight. But the incident raised questions about the effectiveness of airport security procedures.
Noibi wanted to travel to Atlanta, where he has relatives, and found a boarding pass for a Los Angeles-bound flight on the ground at John F. Kennedy International Airport. He told FBI agents he hoped to find a Delta flight headed for Atlanta if he got past security, according to court documents.
Noibi said he showed the boarding pass to an airport hostess who didn't stop him before he got to the security checkpoint. There, he told a female screener he lost his identification and showed her his student identification card and a police report that said his U.S. passport had been stolen. She called over a supervisor and he eventually was allowed to go to his gate, according to an FBI affidavit.
He made it on the plane, and the flight crew didn't realize until midflight that an extra passenger was onboard in a premium seat that was supposed to be empty.
FBI agents interviewed Noibi when he got off the plane, but he wasn't arrested.
After spending several days in Los Angeles, Noibi tried to get on a Delta flight back to New York, again using an expired boarding pass bearing someone else's name.
He was arrested June 29 at Los Angeles International Airport.
Noibi told federal investigators he was able to go through security screening in Los Angeles by presenting the same documents. It wasn't until he got to the gate for a Delta flight bound for Atlanta that an agent who scanned the expired boarding pass refused his entry on the plane.
Deputy federal public defender Carl Gunn said Noibi acted foolishly and his decision to get on a plane was a "spontaneous act." Gunn said his client had been drifting after leaving the University of Michigan and was at times homeless.
"Frustration and depression over this status is part of what led him to commit the offense in this case," Gunn wrote in court documents.
Noibi has since met with federal authorities and discussed how he was able to get through airport security screening.
"The silver lining to the cloud of Mr. Noibi's offense is that it will hopefully help the government tighten security procedures by revealing potential weaknesses in its present procedures," Gunn wrote in court documents.
HUFFINGTON POST