Uduaghan Stands By Asaba Airport, Says Remains Cheapest In Nigeria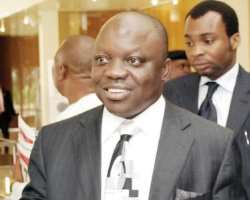 DELTA STATE GOVERNOR, DR. EMMANUEL UDUAGHAN
SAN FRANCISCO, November 27, (THEWILL) – Delta State Governor, Dr. Emmanuel Uduaghan, said at the weekend in Warri that he had no regret in committing the state resources into the building of the Asaba International Airport, saying it still remains the cheapest Airport to be built in the country today.
Uduaghan on a Phone-In-Programme at the Delta Broadcasting Service (DBS), Warri, noted that even though work was still going at the Airport, it is being regarded by not a few as one of the most beautiful Airports in Nigeria.
"The Asaba International Airport is still the cheapest to be constructed in Nigeria today; I can beat my chest to say it, let anybody come here and stand before me and tell me the cost of any Airport in this country that is cheaper.
"The construction of that Airport has been the fastest in Nigeria today. Some Airports that have been completed were started seven years ago and they are just being completed and the Asaba Airport took just three years and planes are already landing."
"Why I am very happy about the Asaba Airport today is that it is telling its own story. As at today, it has taken over 20,000 passengers and those 20,000 passengers are everywhere in Nigeria telling the story of Asaba Airport. Even the fact that work is still going on, people still regard it as one of the most beautiful Airports in Nigeria today and I am no longer bothered about what other people say," Governor Uduaghan stated.
He added that; "Now, having said that, because I am in Warri, I need to do explanation on the Osubi Airport; the truth is that when I came in as Governor in 2007, one of the first thing I wanted to do was construct a longer run-way at the Osubi Airport and we put up a team headed by the Deputy Governor to discuss with Shell and it took us two years of backward and forward, after about two years, we have commenced work and we have done all the drawings and designs."
The Governor disclosed that he had just received the final report on the Osubi Airport and soon it will be tabled at the State Executive Council and after approval, the contract will be awarded.
Governor Uduaghan revealed too that the Asaba International Airport had so far gulped about N17 Billion.