IKEMBA WAS FORTHRIGHT -BUHARI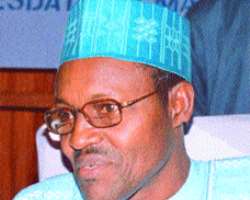 • Buhari
Former Head of State, General Muhammadu Buhari, has eulogized Ojukwu, saying 'Ojukwu was a forthright and honourable player.' In a statement signed by the residential candidate of the Congress for Progressive Change (CPC) in the April, 2011 election, Buhari said: 'It is with great shock that I received the news of the passing away of Dim Chukwuemeka Odumegwu Ojukwu on Saturday morning.
' Though he had been sick for some time, we were all hoping and praying that we would welcome him back home in good health; but, unfortunately, this was not to be. 'I would like to offer my heartfelt condolences to Mrs. Bianca Ojukwu and the Ojukwu extended family, the governments of the South-Eastern states, Ndigbo in Nigeria and in the Diaspora, and to the entirety of the people of Nigeria on this great loss.
'In his life, Dim Ojukwu had been many things to many people – a soldier, a leader, a rebel and a politician. 'It was in his role as rebel to the nation and a symbol to his people and fighter for their rights that he came to play a pivotal role in the tragic civil war in which we found ourselves in trenches facing each other as brother-enemies fighting to preserve the unity and territorial integrity of our fatherland.
'Later, we would still be fighting, this time together in the trenches of Nigeria's politics, to finish the battle for unity and progress. 'Dim Ojukwu will be greatly missed. I pray to God to give his family, Ndigbo and the nation the fortitude to bear a loss that can in many ways be said to be truly irreparable,' Buhari prayed.