GENEVIEVE N OMOTOLA are 'sisters'!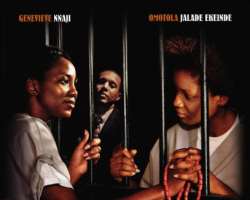 (Los Angeles, October 29, 2009) – Since the inception of film-making in Nigeria 15 years ago, the world has been waiting for one Nollywood film that stands apart from the rest, one that will capture the minds and hearts of movie-goers worldwide, one that will leave a timeless memory, capable of illustrating the creativity, tradition, and essence of Nigerian culture. IJE is that movie. Typically, Nollywood movies neglect the way films should be made by ignoring production value, focusing instead on famous actors and actresses. IJE which means "the journey" in the Nigerian language Igbo, will undeniably revolutionize the way Nigerian movies are viewed and created, as it is the first Nollywood film to include features common to Hollywood movies.
Unprecedented in scope, IJE tells a tale of Chioma, a child growing up in the Nigerian countryside, who warned her restless sister, Anya, about the trappings of the American Dream. Now ten years later, Anya is accused of killing three men in a Hollywood Hills mansion—one of them her record producer-husband. Chioma travels from Nigeria to Los Angeles, and with the help of a young, unproven attorney, discovers that the dark secret her sister wants to keep hidden might be the only thing that can win her freedom. A majority of the film was shot in the U.S. on 35mm, but it has flash back scenes that were shot on location in Jos, Nigeria.
Directed and produced by Nigerian Born Chineze Anyaene, "IJE" is a compelling drama with organic twists and turns. Anyaene is the youngest female director, and the first woman to film 35mm in Nollywood. Also produced by Paula Moreno, one of the first Producers in L.A. to take on the challenge of filming a Nollywood feature, the film boasts of an internationally diverse cast, such as Nigerian A-lister's Genevieve Nnaji, who was recently profiled by Oprah Winfrey as one of the most famous people in the world, Nigeria's sweetheart Omotola Ekeinde, and critically acclaimed actor Clem Ohameze. Hispanic sensation Odalys Garcia and upcoming actor Ulrich Que join the brilliant cast, a component that makes the film widely appealing to international audiences. Anyaene and Moreno, two trailblazing minority women, are determined to make a change in the international movie industry by merging the Hollywood and Nollywood industries.
IJE: THE JOURNEY is set for an exclusive screening at Warner Bros. on November 14, 2009 in Burbank, CA
Story by http://nollywoodgists.com