Explosions, Gunshots In Northeast Nigeria City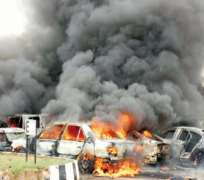 Explosions and heavy gunfire echoed Saturday night through a city in northeast Nigeria that's home to a powerful politician, witnesses and officials said, the latest major attack in a region home to a radical Muslim sect.
It wasn't immediately clear if there were any casualties. The attacks began at 7:30 p.m. Saturday (1830 GMT; 1:30 p.m. EST) in the city of Geidam in Nigeria's Yobe state, which sits near the country's arid border with Niger, authorities said.
Witnesses told The Associated Press that many in the city hid inside their homes after the fighting immediately following evening prayers.
"We started hearing a deafening blast — boom, boom," said witness Grema Umaru, 39. It followed "with sporadic gunshots near the police station."
Umaru said she believed the attackers also targeted a nearby First Bank PLC branch, though she remained hidden inside of her house to avoid being wounded.
State police commissioner Sulaiman Lawal confirmed the city came under attack, but declined to offer any further details. The city is the hometown of Yobe state Gov. Ibrahim Geidam, who uses the city's name as his last name as is customary for many in Nigeria's Muslim north.
While authorities declined to say who they suspect in the attack, it mirrors other assaults recently carried out by a radical sect known as Boko Haram. The group has launched a series of attacks against Nigeria's weak central government over the last year in its campaign to implement strict Shariah law across the nation of more than 160 million people.
Boko Haram claimed responsibility for a Nov. 4 attack on Damaturu, Yobe state's capital, that killed more than 100 people. The group also claimed the Aug. 24 suicide car bombing of the U.N. headquarters in Nigeria's capital that killed 24 people and wounded 116 others.
Little is known about the sources of Boko Haram's support, though its members recently began carrying out a wave of bank robberies in the north. Police stations have also been bombed and officers killed.
Boko Haram has splintered into three factions, with one wing increasingly willing to kill as it maintains contact with terror groups in North Africa and Somalia, diplomats and security sources say.
Recently, Nigerian authorities arrested a member of the country's National Assembly and accused him of being involved with the group along with other politicians. However, even politicians with ties to Boko Haram can no longer consider themselves safe. Politicians in Maiduguri, the city that is Boko Haram's spiritual home, and other places in the northeast now surround themselves with security and live in apparent fear of the sect.
Associated Press.