I'M BACK TO RULE THE MUSIC INDUSTRY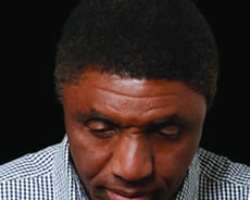 Bongos Ikwue
Bongos Ikwue remains one of the most successful singers, songwriters, composers and band leaders ever to emerge in Nigeria. Many love him for his soulful, folksy songs including Cockcrow at Dawn, Still Searching, Amen, Otachikpokpo and a host of others, which became instant hits in Nigeria and beyond. Indeed, Cockcrow at Dawn became a sort of national anthem when it was adopted as the title of a national TV series and the track as the central theme song.
In fact, Bongos was on equal musical scale with Nigeria's very best like King Sunny Ade, Haruna Ishola, Ebenezer Obey, Fela Kuti and the rest. Born on June 6, 1942 in Otukpo, Benue State, Bongos attended Ahmadu Bello University, Zaria where he studied Engineering. But while in school, Bongos gave voice to his passion: music, forming a band called, Unibello. And finally in 1967, he founded and headed the Groovies band, which became extremely popular in the '70s through to the '80s.
Bongos toured the nooks and crannies of Nigeria. He soothed the nerves of his numerous fans from the North to the South, and from the West to the East. He indeed broke a lot of barriers with his kind of music, travelling to London where he rubbed shoulders with the like of the late Marvin Gaye, and sharing the stage with legends like Mohammed Alli, Papa Rufus Thomas and the rest. Here, the iconic artiste shares his experiences and reveals why he is making a comeback. Enjoy.
Man on the move
For a while now, I have been busy writing and making music in my multimillion naira studios in Otukpo with my young, vibrant, and talented band, 'Double X'. I have performed exclusively for the presidency, and also at some selected festivals and other important occasions in and around Nigeria. I am a man on the move, ready to give my all to music and the entertainment business, which no doubt has brought me fame and fortune. My resolute belief in the Nigerian project is contagious as expressed in my forthcoming album.
The way it is
After a long hiatus, I am back with a bang, with a bold new three-album project entitled, The Way It Is. It is a jazz, blues, country and a contemporary album featuring two of my daughters and two British artistes brought in as backing vocals, including other talented instrumentalists from home and abroad. The work is going through the final stages of imminent release on Bongos Ikwue Entertainment (BIK) based in Otukpo, Makurdi and United Kingdom. I have really picked up from where I left off.
Patriotic Bongos
I am a patriotic Nigerian who will never run his country down. One of the singles, Nigeria Has Come To Stay, which was featured on NTA Network on October 1 as part of the 51st independence anniversary, is included in the new album. Love of My Life is a love song that will take the world by storm. It is a beautifully written love song with a native chorus on a jazzy musical feel which is vintage Bongos. Another track on the album is a smooth bluesy track, Bartholomew. And Inali is specially written for the film, Inali that has already won Best Sound Track award in Monaco.
Global distribution
The album is set for a worldwide release with Europe and American releases in progress. Already, BIK has secured a distribution deal with Honest Jons, a company owned by Demon Albarn, the superstar behind the Grammy award-winning band, Gorillaz. Honest Jons is part of Parlour Phone, which is part of EMI International, and they will distribute across Europe while Virgin Records will distribute across America.
My entertainment empire
Over the years, I have been quietly building what can be described as 'Hollywood in Nigeria', an entertainment empire that will in another few years take Nigeria by storm and move show business to the next level. The empire is based in Makurdi, Benue State and it consists of an ultra-modern and state-of-the-art equipment to rival any entertainment industry in the world. There is the film studio, a multipurpose complex built to cater for film and TV production, animation and futuristic graphics. The recording/musical studio can be compared to the very best where a whole live musical orchestra can conveniently record. International artistes of repute can also record in the studio. There is the rental arm of the business for indoor and outdoor equipment for concerts of any magnitude with lights. And following in the footsteps of music establishments like Motown, Stark Records and CBS, my in-house band can back up any Nigerian and international artiste on tour or at any studio in the world.
Marriage & family
God has been so good to me and every member of my family. I have a lovely wife, Josephine. She is very nice and caring. I am blessed with good children who are all graduates.
They schooled in the United States and two of my daughters are endowed in the art of music. One of them has written and recorded her eight-tracker album, which would soon be released.
Plans for 70th birthday
As a patriot, nationalist, and committed family man, and a lover of humanity, I have plans to publish a biography and also do a documentary to celebrate my 70th birthday next year.