Egypt Protesters Clash With Police, One Dead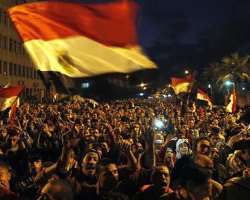 DEMONSTRATORS WAVE EGYPTIAN FLAGS AS THEY SHOUT SLOGANS AGAINST THE MILITARY COUNCIL DURING A MASS PROTEST IN ALEXANDRIA NOVEMBER 25, 2011.
Egyptian protesters demanding an end to army rule clashed with police firing tear gas in central Cairo on Saturday in a flare-up that cast another shadow over a parliamentary election billed as the nation's first free vote in decades.
One protester, Ahmed Sayed, 21, died after being hit by a state security vehicle. His death was the first since a truce between police and demonstrators on Thursday calmed violence that had killed 41 people in Cairo and elsewhere.
Hundreds of demonstrators camped overnight in Cairo's Tahrir Square ahead of a lengthy, staggered election process due to start on Monday in Cairo, Alexandria and some other areas.
The clash occurred near the cabinet office where protesters began a sit-in on Friday against the army's appointment of 78-year-old Kamal Ganzouri, a premier under Hosni Mubarak, as new prime minister. They aim to prevent him from getting inside.
The Interior Ministry said the vehicle had hit Sayed by accident, an account backed by Ahmad Zeidan, 18, an activist at the sit-in who said he had seen the youth being run over.
"It wasn't deliberate. They (police) were retreating quickly because (protesters) were throwing rocks and Molotov cocktails at them," he said. The demonstrators had come from Tahrir to confront police vehicles apparently heading for the square.
"Down, down with the marshal," a group chanted in Tahrir, near tents set up on grassy patches. They were referring to Field Marshal Mohamed Hussein Tantawi, who heads the ruling army council and was Mubarak's defence minister for 20 years.
DRAWN-OUT ELECTION
The military council said on Friday each stage of voting would be held over two days instead of one to give everyone the chance to vote. Voting starts on Monday but will not end until early January because of the election's various stages.
One declared reason for the election marathon is because judges, who retain public respect for their independence, will supervise the election and there are not enough of them available for a single day of nationwide voting.
Reflecting security concerns, Ahmed al-Zind, head of Egypt's Judges Club, told a news conference the organisation had taken out private insurance to cover all the judges involved.
Protesters seemed in two minds about the election.
Emad Mohamed, 35, wearing a hat in Egyptian national colours, had no faith in the vote, saying it would enable Mubarak-era politicians to make a come-back. "We do not think it is in our interest. Where are the new parties?" he asked.
But Yasser Nasr, assisting at a makeshift clinic, said: "They cannot delay elections. It will mess up the situation. Once they happen, hopefully things will improve."
Tahrir protesters have dismissed Ganzouri, premier from 1996 to 1999, as another face from the past whose appointment reflects the generals' resistance to change.
The Muslim Brotherhood and other mainstream parties which have not joined the protesters in Tahrir want the election to go ahead, eager to establish a strong presence in parliament.
They have accepted the army's transition timetable, but the demonstrators are demanding an immediate end to military rule.
Alarmed by the violence, the United States and the European Union have urged a swift handover to civilian rule in a country where prolonged political turmoil has compounded economic woes.
The generals have resisted calls to quit now. Instead, they have promised that a new president will be elected by mid-2012, sooner than previously announced, and on Friday named Ganzouri to head a "national salvation government".
THANKLESS TASK
Ganzouri described his task as thankless and "extremely difficult", saying his priority was to secure the streets and revive the economy. Egypt's pound has hit a seven-year low and foreign reserves have dropped by a third since December 2010.
Ganzouri met activists from some youth groups on Saturday, but it was not immediately clear if they represented those driving the protests in Tahrir.
Asked if he had begun choosing his cabinet, Ganzouri told Reuters: "I have not started yet."
Osama Farag, from one of the youth groups that met Ganzouri, said after the talks: "Only five or six ministers will remain, while the rest will be reshuffled."
While tens of thousands packed Tahrir Square for what activists dubbed "Last Chance Friday", at least 5,000 people demonstrated in support of the army in another Cairo square, highlighting splits between youngsters bent on radical reform and more cautious Egyptians keen to restore normality.
Protest groups have put forward their own demands for a government they want to be headed by presidential candidate and former U.N. nuclear watchdog chief Mohamed ElBaradei.
They have also called for another mass rally on Sunday to press demands for an immediate transfer of power from the military to a civilian national salvation government.
REUTERS