FCT Minister In Another Contract Scam, Pockets N1.3B In Single Street Contract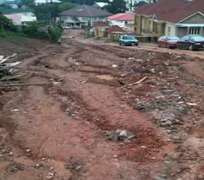 SAN FRANCISCO, November 26, (THEWILL) – Nigeria's Minister for the FCT, Abuja, Senator Bala Mohammed is presently engulfed in another contract scam where he is alleged to have pocketed a whooping N1.3 billion naira.
The Minister was in the news a few months ago following the award of fraudulent contracts but has so far remained in office due to what our source termed "solid ties to President Goodluck Jonathan."
Senator Mohammed is the man that oversees Nigeria's capital city Abuja and its infrastructure.
A source knowledgeable with activities at the FCT Ministry said the Minister who has been cautious with his deals has "now settled for making money from smaller street construction contracts that are awarded to his cronies and the money shared without drawing much attention."
Recall that the Senate Committee on Federal Capital Territory (FCT) led by Senator Smart Adeyemi recently discovered massive fraud and contract duplication for the expansion of Kubwa-Abuja Road in Abuja to the tune of about N16 billion Naira.
THEWILL gathered that though the controversy was resolved between the Minister and the senate committee which our source said involved 'settlement' of members of the committee, Senator Bala Mohammed has opted to rock deals from contracts that will not draw attention.
"Smaller street projects within the Abuja residential areas where there is very little awareness from relevant oversight committee is now the Minister's cash cow," our source further stated.
"His strategy is to identify small streets or roads in obscure residential areas and then structure the award of contracts in part payments (contract splitting) which is then awarded to trusted cronies who front for him."
One of such contracts is Hamza Abdullahi Street which was awarded to a company called S & M Limited, a company run by a contractor allegedly fronting for Senator Bala Mohammed.
The residential street which is less than a one sixth of a kilometer was awarded to the tuned of N1.3 billion Naira and the money quickly released to the contractor, a certain Ademola Solomon, who in turn gave the Minister his share before abandoning the project.
THEWILL gathered that Ademola is notorious for abandoning contracts after receiving payments and flaunts his connections to persons in high places to anyone who cares to listen.
Our source said, "Anti-graft agencies must investigate contracts awarded in the FCT in order to stop these thefts. We must put an end to these scams and fraudulent activities."