Egypt's Army Council Names Ganzouri Prime Minister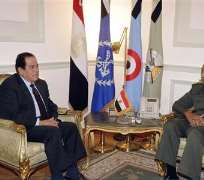 Egypt's ruling military council appointed Kamal Ganzouri on Friday as prime minister to form "a national salvation government" to replace the cabinet which resigned this week.
Ganzouri confirmed his appointment to Reuters by telephone. "Everything will be outlined later," he said, declining to give any details about who might be appointed in his new cabinet.
The formation of a national salvation government is one demand of protesters calling for an end to army rule. Their protest against the military council which took power from deposed President Hosni Mubarak entered its eighth day on Friday.
REUTERS