N37BN LOAN SCAM: BANKOLE, EX-DEPUTY DIDN'T BENEFIT -WITNESS TELLS COURT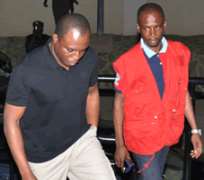 The Director of Finance, National Assembly, Mr Bukoye Azeez, told a Federal High Court sitting in Abuja yesterday that even though former Speaker Dimeji Bankole approved N37 billion loans for lawmakers, he and his deputy, Usman Bayero Nafada, did not benefit from them. He said Bankole okayed the loans allegedly obtained from two banks to fund the increase of lawmakers' running costs from N17 million to N42 mmillion quarterly.
He said that the approvals were given following persistent demand for increase by members and when the ex-Speaker was about to be removed from office. The Clerk of the National Assembly, Alhaji Salisu Maikasuwa, has, however, again been summoned by the court to testify in the loan scam case brought against Bankole.
Maikasuwa, who is the Chief Accounting Officer of the National Assembly, is to appear in the court next Tuesday to explain his roles in the loan scam.
Though, he was supposed to appear in court yesterday, the Economic and Financial Crimes Commission (EFCC) said that Maikasuwa could not be reached because he was not in the country. At the ongoing trial of Bankole and Nafada, the witness admitted that neither Bankole nor Nafada benefitted from the loans when they were disbursed. Testifying for EFCC, the finance director explained that the loans were taken when fund was urgently needed by the House. He said that his department and the Office of the Accountant-General of the Federation did not raise objections to the loans because there was no law forbidding them.
The witness who tendered the document on how the money was disbursed to the members, claimed that Bankole and Nafada were ordered to be excluded from benefitting by the closed-door session of the House. He told Justice Suleman Belgore that a case of fraud, theft, mis-appropriation or mis-application can come if the loans have been used for other purposes than funding increase in the running costs.
The director stood his ground that the House did not overshoot its budgetary allocation in the budget as against the EFCC's allegation.
However, Justice Belgore refused to admit as exhibit, computer generated statement of the House account by UBA on the ground that it was not signed by the maker and not certified by the bank. The National Assembly branch Manager of UBA, Mr. Abdullahi Nma, in his testimony, confirmed that the House took the loans and not the two accused persons, adding that they were also not signatories to the account.
He also told the court that he never  had dealings with the accused persons in respect of the loans and that the credits have been fully liquidated with the grant of the House from the Office of the Accountant-General of the Federation as agreed in the loan agreement.
Further hearing continues on Tuesday.