Reps Charges Shell/FG To Build Oil Monument In Bayelsa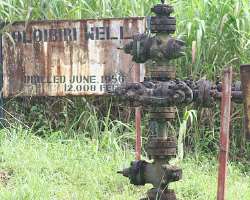 OLOIBIRI WELL 1, IN OLOBIRI, OGBIA LOCAL GOVERNMENT OF BAYELSA STATE
ABUJA, November 24, (THEWILL) - The House of Representatives Thursday called on the Federal Executive Council (FEC) and Shell Petroleum Development Company to immediately build and develop the Olobiri oil well 1 site into a centre of training for petroleum and tourism related activities.
It also urged the National Council for Museum and Monuments to forthwith declare Oloibiri Well 1, in Olobiri, Ogbia Local government of Bayelsa state, a National Monument, stressing that in October 1956, Crude oil was discovered in commercial quantity in the area.
The decison was taken after a motion sponsored by Hon. Karibo Nadu and five others. The movers argued that "after commercial exploitation of oil from Oloibiri Well 1, Olobiri and its surrounding communities produced tens of millions of barrels of oil worth billions of dollars spanning a period of over 20 years with the attendant damage to the environment and ecosystem, the communities were abandoned without any meaningful development in the area."
The lawmaker said the National Museum and Monument had declared amongst others, the old Residency in Calabar, Sango Shrine at Ijebu-Ode, Petroglyph of Igbarake near Akure, King Jaja Stature in River State and many others, arguing that same be done in Oloibiri.
The motion was referred to the House committee on Tourism for further legislative action.
Also today, members resolved to send a delegation to commiserate with the Government of Ondo state and the people of the affected community over a devastating fire disaster in Iju-Oshun community in Ondo state through a motion moved by Hon. Akintoye Albert.
Similarly, the House mandated its committee on works to see to the rehabilitation of the deplorable state of the Ikot-Ekpene-Aba, Ikot Epkene- Umuahia roads.
The motion for that was moved by Hon. Saviour Friday Udoh.