WE'LL KILL BORNO PDP CHAIRMAN -BOKO HARAM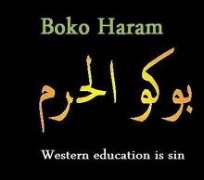 Aspokesman for Boko Haram claimed yesterday that the group has links with Al-Qaeda, while also threatening to kill a Peoples Democratic Party (PDP) chieftain in Borno State as well as attack political party offices.
'It is true we have links with Al-Qaeda,' the man identifying himself as Abul Qaqa told reporters in a phone conference in the Hausa language spoken throughout Nigeria's mainly Muslim north. 'They assist us and we assist them.'
Abul Qaqa has claimed to speak on behalf of Boko Haram on a number of previous occasions. He did not provide further details on the supposed link. He said 'any Muslim group that is struggling to establish an Islamic state can get support from Al-Qaeda if they reach out to them.'
There has long been speculation, particularly among Western nations, over whether Boko Haram has formed links with outside extremist groups, including Al-Qaeda's north African branch.
Boko Haram has been blamed for scores of attacks, including the August suicide bombing of UN headquarters in the capital Abuja that killed at least 24 people. The group is believed to have a number of factions with varying aims.
State Secret Service alleged this week that some Boko Haram members have links to politicians following the arrest of another alleged spokesman for the group.
Abul Qaqa refuted the secret police claims during the phone conference.
He issued the death threat against Baba Basharu, chairman of the PDP in Borno, because of comments he reportedly made linking Boko Haram to former Borno State governor Ali Modu Sheriff.
Basharu reportedly said Sheriff had allied with the group, but then the two sides had fallen out, causing Boko Haram members to turn against the then-governor. Politicians have long been accused of using gangs as muscle or to help rig elections, and links between Sheriff and Boko Haram members have been alleged a number of times.
'The Borno State PDP chairman Baba Basharu should note that he is now on our death list for claiming that we had a link with former governor Ali Modu Sheriff,' Abul Qaqa said. 'We are going to eliminate him.'
Sheriff is a member of the All Nigeria People's Party, currently in power in Borno State. The PDP dominates politics nationally, but is the opposition in Borno. Abul Qaqa also said that 'our next targets of attack will be political party offices… and all buildings where political party posters are posted will also be targets.
'We are calling on members of the public who have rented out their buildings to political parties to immediately convert them to other use. All posters, flags, logos of political parties should be removed from the buildings.
'Similarly, anyone who adorns his house with the symbol of any political party should remove it or else the building will be burnt down.' The purported spokesman said Boko Haram had two conditions for dialogue with the government, describing them as 'implementation of Sharia in Nigeria and the withdrawal of troops from Maiduguri.'
A military task force has been deployed to the northeastern city of Maiduguri in a bid to stop Boko Haram, but soldiers have been accused of major abuses, including killing civilians and burning their homes.