BOKO HARAM: UNVEILING SPONSORS GOOD NEWS -AKPABIO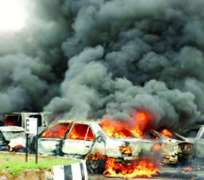 Akwa Ibom State Governor, Chief Godswill Akpabio has described as pleasing, the unveiling of the alleged sponsors of the dreaded Islamic Sect, Boko Haram that has been terrorizing some northern states in the country including the Federal Capital Territory (FCT).
Akpabio, who spoke at the General Aviation Terminal (GAT) yesterday said: 'For me, it is not worrisome that a serving Senator was mentioned as one of the key sponsors of Boko Haram, but rather, the pleasing news is that for the first time, there is a clue and the veil of secrecy is being lifted as sponsors of criminalities in Nigeria are being unveiled and as far as I'm concerned, this is like leading to the cure the problem,' he said.
He said what the government was doing now to ground the activities of the sect is akin to systematic treatment, since arresting the sponsors was an automatic way of nabbing the pawns used for the attacks.
'We were doing systematic treatment because if you are able to get the sponsors to face justice, it means that those who are being sponsored will no longer be available.
The majority of these people are unemployed. They can't actually distinguish right from wrong, this is the truth. So, like what has actually happened in the past, people and politicians make use of them unjustifiably in a situation whereby they become a menace to the society. So, that news of the unveiling of Boko Haram automatically shows that we are beginning to solve the problem. I see an end to Boko Haram and other criminalities with this development and I will like to urge the president to ensure that no matter who is involved, his status in the society, any Nigerian that sponsors criminality must be brought to book,' he stated.
Continuing, he said: 'Last year, if you are aware, there was a very big fish who was involved in sending terror text messages to individuals under different guises. 'The governor has asked us to kill you, bring so and so money or do this or do that' and eventually, he was arrested by SSS, who came in a team from Abuja. In spite of the fact that he's a man who has been riding along the road with big vehicles for over 20 years, we charged him to court.
A very big fish, a big politician, he had contested governorship position in the past and the young boys, who were arrested confessed and we paraded him before television and let him use his own mouth and tell Nigerians the issue and that was what happened and the case is still in the court.