AVIATION WAR: AN END TO A LONG WAIT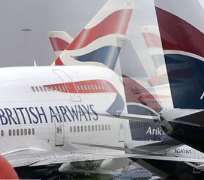 Nigeria is at war with the UK. It is over flight slots between the two countries. Arik Air of Nigeria and the British Airways (BA) are at the centre of it. Anyone who follows what foreigners do and get away with here knows this war is late in coming. It is known that foreigners and foreign companies buy everyone and anything that has a price. And for long here, everyone and everything has a price, including Federal ministers. Foreigners also know that hardly do officials take a peek into agreements papers that guide any issue between their two countries. Copies of such agreements may not even be available in a ministry days after they are signed. Nigerians were at the mercy of government functionaries who sold them out, just because a package, or a word was slipped across to anyone in corridors of power. Many in top position had become instruments by which foreigners bought the system. Every Nigerian has his experiences to tell from what he has encountered in various segments of national life.
The war over slots on the London-Abuja-Lagos route has exposed one thing - the interest of this nation that should be fully protected, issues that harm the nation that should have been handled with dispatch, and about which nothing has been done for long. This is what Arik-BA affair has brought to the fore more than anything else. Now, slots in aviation parlance are periods between arrival and departure of a flight at an airport. Slots are products of frequencies, which in turn are products of routes and are created by air service agreements. Such may be bilateral or multilateral. The former applies to Nigeria and the UK – Bilateral Air Service Agreement, BASA. This agreement established the air service operations between Nigeria and the UK and created routes. For the routes to be well served, frequencies were enshrined. Today, there are 21 frequencies each for Nigeria and for the UK. These frequencies are rights and either Nigeria or the UK can use them as it wishes. Now the agreement also requires each party to create a conducive environment for the operations of the frequencies by either side in each other's nation. But in the UK, Arik says, it has found the operational environmental increasingly not conducive, and deliberately skewed in favour of BA.
It is however worthy of note that slots and frequencies as enshrined in BASA are mandatory, and neither party can do as it pleases with them unless both sit and renegotiate. But what has happened? In a nutshell, BASA was infringed in the UK on the basis of another issue (the angle of British Mainland International, BMI) that was not in the original BASA. The logical thing, if the new issue raised is truly the case, is for the two parties to sit and discuss the emerging issues. But on its own, the UK used excuses known only to it to break everything it agreed to in BASA. This matter did not just come to the surface though. It had been since 2009 when Arik Air petitioned the then Minister of Aviation, Babatunde Omotoba. He in turn engaged the British High Commissioner at the time. The High Commissioner requested Arik to make a six-month provisional arrangement during which he would sort the matter out. But the Airport Coordination Limited, ACL, that Arik deals with, and which manages allocation and selling of slots (on behalf of BMI), insisted on a one year period. Arik had no choice but to pay a disproportionate fee that was neither foreseen nor acceptable under BASA, while its slots were reduced in favour of BA.
For two years, nothing has happened to put right a situation that was apparently wrong. The UK government did not do anything about the matter until the Nigerian Ministry of Aviation put its foot down under the current Minister of Aviation, Princess Stella Adaeze Oduah, who in the nation's interest decided to reciprocate what the UK had meted out to Arik. A couple of BA's flight into the country had been cut down. And now, the UK wants the matter resolved within the BASA frame because the BA's interest is being hurt in return. And there was another step that an agency under the Aviation Ministry took. It calculated the abuses, in illegal charges, that BA and Virgin Atlantic had meted to their customers on the Nigeria routes and ordered that they pay a fine of over two hundred million dollars.
It is amazing how some so-called commentators have handled this issue in the public space. Some say the nation's Aviation Ministry should not have taken the step it took, that it should have sat down to trash these issues out. That sounds like a good piece of advice on the face of it. And it would have been sound under other circumstances. But the question is: For how long will other nations take Nigeria for granted and government officials pat them on the shoulder. For instance, from what Confederation of African Football, CAF, has done to Nigeria so far by rubbing its nose in mud, this nation should have given that body cold shoulders and rally round itself other African nations to bring changes to CAF to ensure this nation is given its due respect. CAF would not look the way of this country's request to host football tournaments lately, and it blatantly gave a hosting right it had promised Nigeria to another country at the last minute. This can only happen in a country where officials of the national affiliate have their legitimacy questioned at home, and will therefore dance to every inordinate tunes from the Cairo headquarters of CAF, rather than do what it should to have the nation and its people accorded their due respect.
It should be stated that at this point when Nigeria's prestige is at its lowest, attempts by government functionaries to shore up respect for the nation, guard, uphold its interest such as the Minister of Aviation has done should be applauded. This war in the aviation industry is a wait that has been too long in coming. And this is because much of what made this nation a laughing stock in the past was as a result of the unserious manner functionaries handled issues that they were put in position to monitor on behalf, and in the interest of Nigerians.
Tunji Ajibade is a Communications Consultant. [email protected]
Disclaimer:

"The views/contents expressed in this article are the sole responsibility of

thewillnigeria.com

and do not necessarily reflect those of The Nigerian Voice. The Nigerian Voice will not be responsible or liable for any inaccurate or incorrect statements contained in this article."
Articles by thewillnigeria.com