I'M NOT IN MOROCCO TO TAKE EGUAVOEN'S JOB – KESHI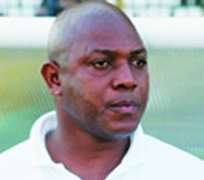 Super Eagles' gaffer, Stephen Okechukwu Keshi, said no one should misinterpret his joining the Dream Team V in Morocco as he is not in any way going to take over Augustine Eguavoen's job.
The Big Boss as he is often addressed by his admirers told Daily SunSports on the eve of his proposed departure for Morocco to join the Dream, Team V led by Coach Augustine Eguavoen that his job in the CAF Under-23 Championship is only to offer technical advice and not to take over the team as many may want to believe.
'My brother, the job in Morocco is highly technical and I'm only going there to give a word of advice to Coach Eguavoen, who has been in-charge of the team. I sincerely hope that things would come out the way we really anticipate and pick a ticket for the London 2012 Olympic Games.'
Though, Keshi was said to be on his way to Morocco to scout for players he would use in his new Super Eagles team, but it was reliably learnt that the technical assistance of Keshi would go a long way in making things work for the Dream Team V.
The London 2012 Olympic ticket according to Keshi is a very important one for Nigeria given Nigeria's failed attempt at qualifying for the 2012 Africa Cup of Nations holding in Equatorial Guinea and Gabon.
'The NFF wants me to give a helping hand in Morocco and I only hope that at the end of the day, we'll be able to get to the target.'
Keshi told Daily SunSports that he is convinced the Eguavoen's boys would give a good account of themselves. 'The boys have been on this for a while and I hope that they would grab the much desired ticket at the end of the day. I'll be in Morocco to do my beat,' he stated.
The Dream Team V is expected to grab one of the three tickets at the championship, which commences on November 26th. The other available ticket would be in a play-off for the fourth place team against an Asian side. Nigeria is in Group A and would play in the opening encounter against host, Morocco which Eguavoen has described as a must win.